Club Founder
Staff member
Lifetime Member
Supporting Member
Feb 13, 2013
13,010
30,344
113
Ownership


1000-5
Announcing The 2019 PIONEER TAKEOVER - A Honda SxS Club, Group Ride!
May 3 & 4th 2019
Ride Royal Blue Resort, Pioneer TN.
Open to all Honda SxS Club Member, friends, and family.
For Complete info on Ride Royal Blue visit their website
Ride Royal Blue Resort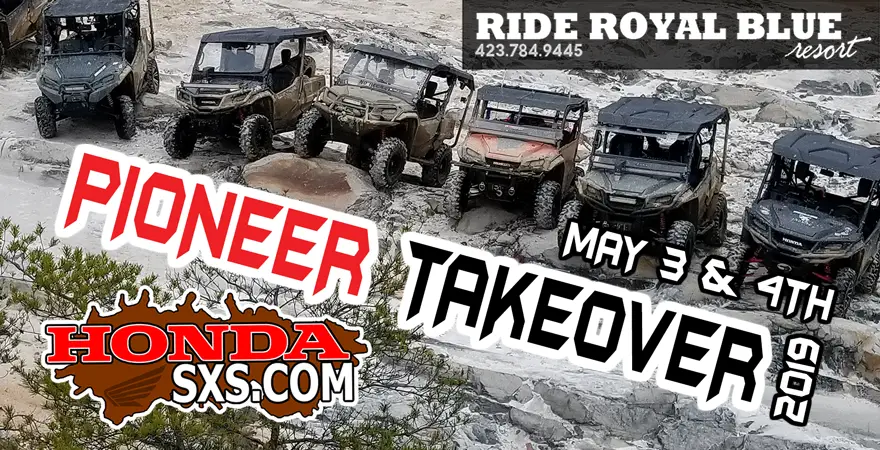 *****************

REGISTRATIONS IS REQUIRED AND IS FREE!
** REGISTER HERE
****** REGISTER HERE
********** REGISTER HERE

*****************

CALLING ALL VENDORS!

- For vendor info please contact

@Hondasxs

for info.

*****************

TAKEOVER SPONSORSHIPS

Are now available here -->

PIONEER TAKEOVER SPONSOR PACKAGES!

*****************

Cabin / RV / Campsite's


Booking is now open and WILL SELL OUT!

Get your cabin here -->

https://rideroyalblue.com/rooms.cfm/mode/cabins

At this link, you can book for "Royal Blue Resport", "The Ridges at Royal Blue" and "Eagle Rock Resort"

Honda SxS Club Discounts.
The early bookings from now until 11/20/18 should use the promo code RKPT2019 for a 15% discount.
Late bookings after 11/20/18 use the promo code HPT2019 for a 10% discount.
Also, If you like to roll the dice to save even more, we expect a Black Friday sale on November 23!
Several new campgrounds in the area for 2019
What days should you book?
You can come as early as you like. Many will be arriving Thursday or earlier and leaving Sunday.
Our main gathering will be on Friday and Saturday.
Friday will be a meet and greet. TBA
Saturday we will have Vendors, Meal, Bonfire, and Raffle.
So what are you waiting on? Head over to
https://rideroyalblue.com/rooms.cfm/mode/cabins
and get your spot today.
Registration is required and is free!
*****************
** REGISTER HERE
****** REGISTER HERE
********** REGISTER HERE
*****************
The event will be free to attend.
We are discussing some things with the campground to make it HUGE.
Stay tuned as plans get put in place.
What is the "PIONEER TAKEOVER"
Our goal is to bring together a large group of Honda Pioneer owners and riders for a Group Ride Friday and Saturday with a friendly get together and meal Saturday evening around a bonfire.
The event is begin organized by the Honda SxS Club by its members for its members.
A Thrilling Ride...
Enjoy majestic mountainside vistas and thrilling rides on some of the over 600 miles of trails, featuring picture-perfect waterfalls, elk viewing, and abundant wildlife.
Ride Royal Blue offers 200,000 acres suited for all skill levels. The trails range from leisurely treks for families to white-knuckle obstacles for thrill seekers.
Resort Highlights
Largest Resort in East Tennessee
Voted one of the top 5 riding destinations in the United States
Just a 30-minute drive from Windrock and Brimstone
Full-service Restaurant with catering
Conveniently located just 4 miles from I-75
Family-friendly atmosphere
Cabins, RV sites, and tent camping
Trail Permits - Land access permit!
NOTE: 2019 trail permits may not be on sale until March!
Only 1 permit needed per vehicle, passengers ride FREE!
TENNESSEE RESIDENT:
Daily Permit: Type 36, cost $18
Annual Pass: Type 1 plus Type 93, cost $56
Junior Annual (13+): Type 2 plus Type 93, cost $$35
NOTE: A sportsman license will cover your riding permit.
OUT OF STATE VISITOR:
Daily Permit: Type 38, cost $40
7 day Pass: Type 72 plus Type 93, cost $84
Annual Pass: Type 71 plus Type 93, cost $133
Junior Annual (13+): Type 70 plus Type 94, cost $36
Get permits here --> UPDATED LINK FOR 2018

Tennessee R.E.A.L. System Online Licensing Click Hunting or Fishing and continue till you get to the selection type page. Select the correct type # listed above. Permit is called - NR High Impact Ride Royal Blue ATV Resort and Campground

6307 Stinking Creek Road

Pioneer, TN 37847-4320

(423) 784-9445

Ride Royal Blue Directions

From I-75, exit 144 (Stinking Creek Road)

Turn right at the exit stop sign

Travel 4 miles to resort entrance on right.

Itinerary



Early Birds -Wed & Thur!
For any early birds that arrive, we will be exploring some deeper trail systems daily. Before joining a group, make sure it fits your skill level. Many will be all day adventures for experienced riders in limited groups.
Friday
Saturday
Last edited: