Sep 17, 2020
12
23
3
Ownership


700-2
My Daughter got me a Alpena Trektec Light Bar D17-P for my 2016 Pioneer 700, but of course it does not come with an On/Off switch, extra wiring or tells me whether I need to install a Relay. So I am a little lost. Specs say it has a current draw of 4.85A@12 Volts and Power of 58.2W.
Can I install this directly to the Battery with the Red Power wire just having a fuse and if I can what size fuse should I use?
If I need to install a Relay can you tell me what brand and type of Relay I should get. I live a ways out from a town so Ebay, Amazon the Club Store would be best to purchase from.
Last, Any suggesting on an ON/Off swith with wiring I could use to mount under the dash?
Thank you
Greg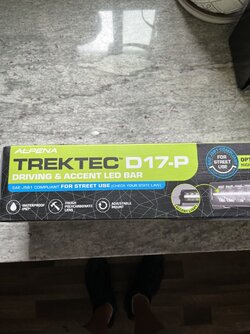 Last edited: