Club Founder
Staff member
Vendor
Lifetime Member
Supporting Member
Feb 13, 2013
15,836
48,600
113
Ownership


1000-5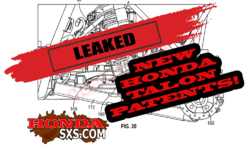 HondaSxS.com has recently obtained patent images of the completed rear suspension for the mystical Honda Talon scheduled to be announced mid-November. These images continue to confirm the trailing arms we expect to see on the Talon.
RELEASE TIMELINE UPDATE.
Honda is expected to announce the Talon in November. But concern has risen from the last dealer update in which the text "SXS" is shown for November on the slideshow but the narrator fails to mention it. This could be a sign that the product may be delayed. Nothing unexpected as Honda has grown accustomed to being late to the game.
But one thing is for sure. If Honda can deliver a solid sports machine with decent power in the 100 HP range the market will respond with praise.
Shown is the 5 link rear suspension of the Honda Talon. We also expect a 3 link suspension. Both will have there own use cases.