Club Founder
Staff member
Vendor
Lifetime Member
Supporting Member
Feb 13, 2013
14,629
40,403
113
Ownership


1000-5
This community has been great about sharing DIY projects.
Many DIY projects have progressed into products for several companies including our own store.
Today I am posting the DIY I4wd delete info to return the favor.
Here is how to I-4wd Delete/Bypass your i-4wd system on your Honda Talon.

WHY?
The Talon 4x4 system electronically controlled. If it defaults into safe mode the 4x4 system no longer works and the user is left with 2x4.
This bypass will allow you to keep 4x4 outside the i4wd system.
HOW?
By electronically engaging the 4x4 clutch independent of the factory system.
Do do this, you just need to find the Green connector behind the plastic guard just in front of the differential. Here you will supply 12v to the red and ground to the green wires both independent of the factory system. Energizing the line engages the 4x4 clutch and you now have 4x4 with a limited front differential.
NOT A 100% I4WD DELETE!
This is not a complete I4WD delete solution. It only allows you to engage 4x4 without turning ON the I4wd system.
i4wd SIDE EFFECTS.
After doing this mod. Your I4wd will no longer be able to control the 4x4 engagement. i
4wd will still work but this "override" must be in the ON position beforehand.

DIY HARNESS KIT!
We have built a simple DIY I4WD bypass kit to help you bypass your factory system. It includes a 5ft wire and a dummy plug. The user end will just be bare wires. Adding in an ON/OFF switch will work as a controller.
NOW AVAILABLE. This is a simple DIY wire harness needed to build your own I4wd override/delete systems for a fraction of the cost. If you have the Talon TORQ LOCKER you need this product to ensure the computer i4wd system does not interfere with your machine and put it into i4wd limp mode...
store.hondasxs.com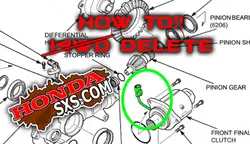 Last edited: