Mar 22, 2021
4
20
3
Ownership


500
I ordered my new Honda Pioneer 520 on January 21st, 2021. (Olive Green)
Did a $1k deposit when I ordered it.
The dealer said likely May delivery. He was honest and said delivery dates were an unknown situation.
I should have asked what year.
I checked in with the dealer periodically. No news was bad news.
I got the phone call last Thursday (Sept. 2nd, 2021) and picked it up Friday morning.
Just short of eight months wait from ordering until delivery. Sorry if this is bad news for any P520 potential buyers.
Then a short test ride at my sisters rural place on Friday afternoon on the way home from the dealer.
Saturday we hauled it to our rural 70 acre recreational property and gave it a proper testing.
I did look at Kubota models while waiting, but decided against it.
I've owned several Honda utility style TM ATV's over the years and they have been absolutely trouble free.
(two wheel drive, manual shift, a 350 Rancher and a 250 Recon)
I sold the 350 early this year, still have the 250.
Was it worth the wait? Time will tell... I do like the Honda Pioneer 520.
I do not blame the dealer for the lack of manufacturer product. But I do wish the dealer communication had been better. (it was non-existent)
But now there is a year end left-over model P520 in my garage and I paid MSRP.
(sub-optimal buying experience)
The dealer said he couldn't order any more 2021 P520's, they will roll over into the 2022 model year.
The dealer only got two P520's for 2021, the first dealership showroom display unit and then mine.
The Bulldog has claimed the P520 as her personal flying carpet, and after a day riding in the dump box, she is now an accomplished rider!
We put a bath mat in the dump box, carpet on top and rubberized non slip below.
One thing I did like was they issued a registration and license plate because they use the shipping weight (992 lbs) instead of the ready to ride weight. (1065 lbs) This is weird because in my state (New York), they don't do registrations or plates on off road ATV's and side by sides that weigh 1000 lbs or more. Having the registration and plate simplifies riding in the Tug Hill area of New York with their extensive trail system.
(Lowville, NY vicinity)
I was expecting to have to register the P520 in Vermont so I could have a registration & license plate.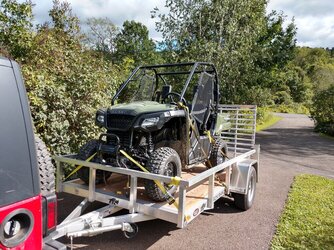 IMG_20210903_160356803_HDR by
cee_Kamp 32ACP
, on Flickr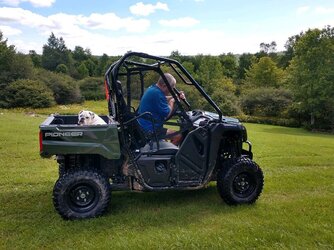 12634 by
cee_Kamp 32ACP
, on Flickr
Last edited: