First off, I am really new to the sport of sxs trail riding. I actually bought two Can Am Maverick Trail 1000 DPS units that unfortunately had fairly significant failures each which made me consider other brands/models. My main thoughts centered around wanting a machine that doesn't rely on a belt driven transmission to engine system. I have been on the sidelines looking at sxs for probably 6-8 years with the fear of dealing with belt issues. When I did end up with the two previous Mavericks, my worries became true with clutch and engine issues, thus removing any confidence that my wife or myself had with them. When you purchase two of the same things and both fail within weeks of one another, disheartening is the only thought that comes to mind. Thankfully, I found one of the few local Honda/Yamaha dealerships within a few hours of our home that was willing to work a trade with me knowing that the trade ins had issues that warranty should resolve. I was surely going to take a bath after less than two months ownership of the Can Ams, but I ended up within a few Benjamins of the original purchase price although not getting any discount to speak of on the new Talon Xs.
Now for the true review since we got to the point of how we got the new Hondas! Before riding either unit, we installed Tusk 5 point safety harnesses in both machines. We took the pair to Durhamtown this past weekend for the initial shakedown and test ride. I can tell you that the feeling of quality is everywhere from the fit & finish, the assembly itself and the powertrain. I definitely have to get used to the "jumpy" throttle that I didn't have with the old sxs. The transmission will also take some learning as to what mode is best for the situation at hand as I only ran in auto the first drive. I felt like the machine wanted to shift more than it needed to and that it actually should shift when it didn't want at other times. I think the manual mode is the ticket to these very tight wooded trails where speed is not even in the equation for the majority of the time. I did take a couple of quiet steep and rocky hill climbs and the i4wd worked flawlessly above my expectations! One thing that is quiet annoying on my graveled driveway is the locked rear differential. I would like for it to be unlocked at times or be selectable for when I want it locked. The Talon X models that we have definitely need a softer suspension for the very rough trails that are rutted out and rocky. I felt every bone jarring hit and I am already considering a set of the FCR tender springs to remedy this issue. I definitely would not want the Talon R as the X itself got very close to some of the very tight tree lined trails. I actually felt more confident in my old 50" machines in these situations obviously. I truly think that Honda has a winner here with the Talons, I just think some softer or smoother suspension tweaks for us rough trail riders would be a welcomed upgrade. The aftermarket has got the remedies to this minor frustration, so I'm sure We'll have this worked out in no time.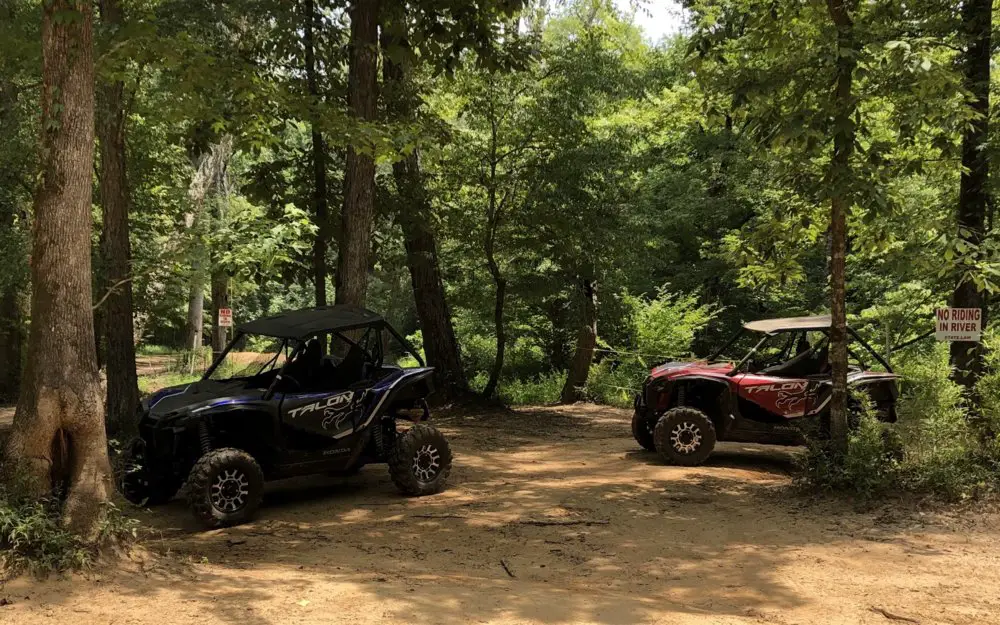 We can't wait to take the toys to Tennessee or West Virginia now!!!