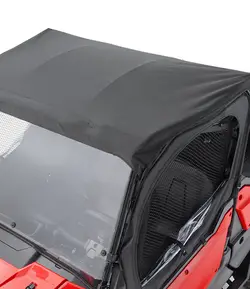 One-piece design is constructed of durable Sur Last® material for excellent water repellence, UV resistance as well as abrasion resistance.
Mold/mildew-resistant.
Fiber rods create a tight, custom fit to the roof while promoting water run off.
Rear panel rolls up increasing airflow through the cab.
Polished vinyl window resists cracking even at temperatures as low as -30º F.
Requires Pioneer 1000 Honda Accessory™ Full Poly Windscreen or 2-Piece Poly Windscreen (either Hard Coat or Optical).
[pdf]http://powersports.honda.com/documentum/MW01/0SR85-HL4-211A.pdf[/pdf]