General Info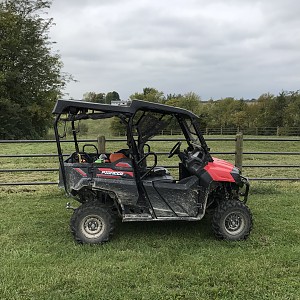 I bought my 700-4 in August after selling my p500. I've added a roof, windshield and rear cup holders so far. I've got a list ten miles long for the takeover, I better start getting mods put on the machine and off the list!
Modifications
Exterior Mods

Honda oem roof, windshield and upgraded front bumper. Seizmik side mirrors. Full length Trail Armor skid plate. Viper Max 4500 winch w/synthetic rope.



---



Interior Mods

Rear cup holders, Honda frame cargo bag, PBR products switch plate. Moto Alliance winch switch. Voltmeter for starting battery.



---



Wheels and Tires Mods

Added 14" Tusk Nebo Beadlock wheels and STI Roctane XD's. Rear tires are 26x11-14, fronts are 26x9-14.



---



Future Plans
Time will tell!