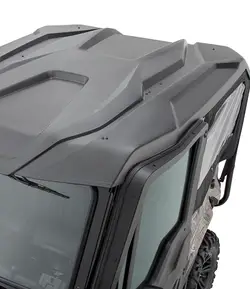 BUY ONE ON SALE HERE!
Compatible with all Pioneer 1000 Honda Signature Accessory™ windscreens. Hard Roof covers front and rear seating areas of 5P Pioneer.
Manufactured from ultra-rugged polyethylene—extremely durable.*Superior weather protection.
Styled to integrate with vehicle design.
Utilizes Honda Tool-Less clamp system.
Includes mount points for Honda Accessory Light Bar.
Quick installation and removal.
[pdf]http://powersports.honda.com/documentum/MW01/0SR85-HL4-101.pdf[/pdf]