General Information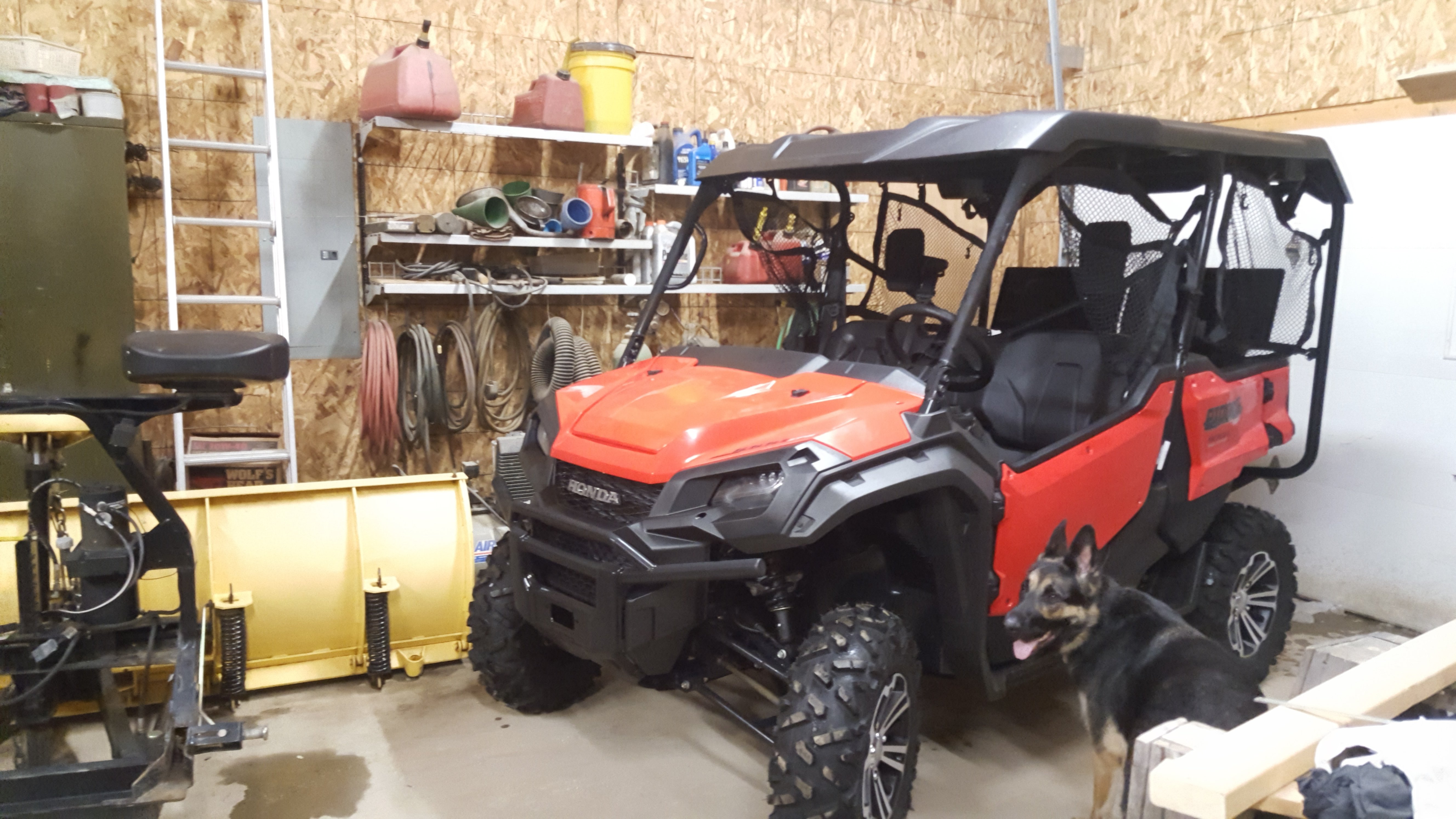 pre- Feb. 22 Research on Honda SXS, collect some "stuff" for build.
Feb. 22, 2017 Delivered by Richard's Sport Shop @8:00pm.
Feb. 22, 2017 Crawled under, over, & through.
Feb. 23, 2017 Family stuff
Feb. 24, 2017 Made template for windshield bottom, received HONDA SXS DECALS in mail,
measured for parts to build front receiver hitch/winch mount.
Feb. 25, 2017 Could not wait any longer, took Moxie for a ride around the yard, then took
wife for a whopping .2 mi. ride down the road...in the rain...need windshield
and mirrors. ( she agreed eagerly! ) She asked if it had a heater...will definitely
need heat fan and shielding later!
Feb. 26-28, 2017 Straightened out mess in garage so when the goodies come I will be able to work comfortably.
Mar. 1,2017 Brought home trailer. 6 X 10, not pretty, but functional and can be brought back to exc. cond. with TLC
Mar. 2-10, 2017 Fabricated ft. receiver, made switch panel, wired switch harness, Family time, Work overtime.
Mar. 11-12, 2017 Ran wires for B/U signal and 12V signal, B/U lights, Rear signal lamps ( to tie with LEDs), B/U alarm, True battery isolator,
underseat blower, and 200A circuit breaker.
Installed B/U alarm, bilge blower, 2 layers of insulation under seat, 2nd battery, isolator, circuit breaker.
mar. 14, Discovered Maine will allow UTVs on the <45mph roads with small additions!
Mar.15, Played with switches and PDM
Modifications
Exterior Mods

Honda hard roof, SXS.com decal, Rear dog "gate", Front 2" receiver/winch mount point, B/U alarm, under seat cooling fan,
underseat insulation,



---



Epic Advntures
None yet!
Trails are groomed for snow sleds, no atv / utv allowed yet.
Future Plans
Rear net for dog safety (Moxie can't wait to go for ride) X
Winch (front & rear mounting to 2" receiver tube) X
A-arm / CV boot protection
Snorkel (hidden)
Mirrors
Windshield
Dual batteries
PDM - relays
Switch panel
Cooling fan
Sound - heat insulation
Tunes
Rear bumper
Horn
B/up alarm
LIGHTS!
Etc.????