General Information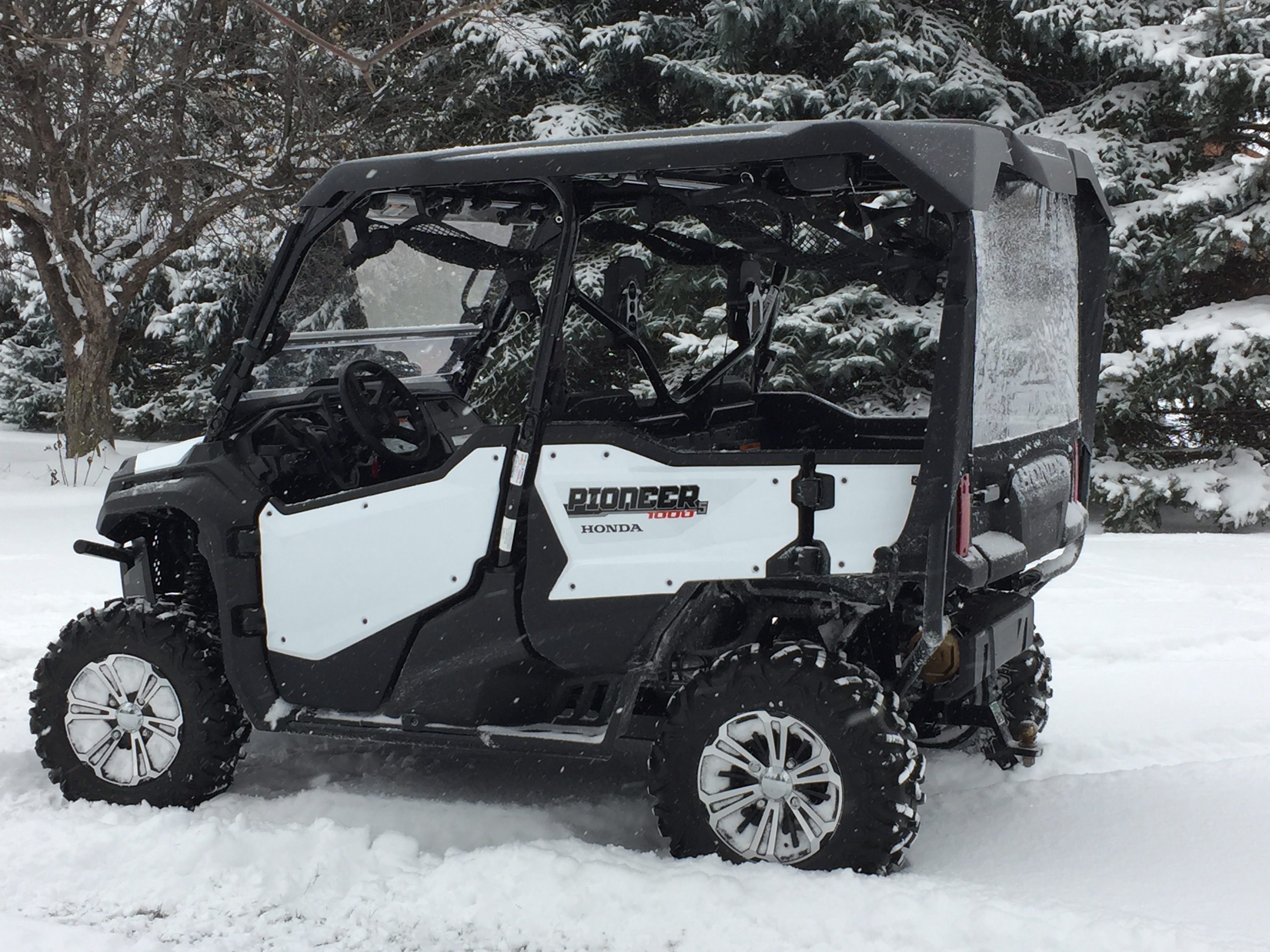 Ordered the P1k in October 2016 along with OEM 2 piece windshield, rear soft panel and hard roof.
Finally brought it home in late November on a Wednesday and immediately installed windshield, roof and rear panel.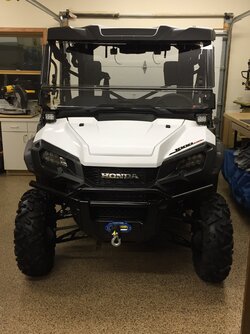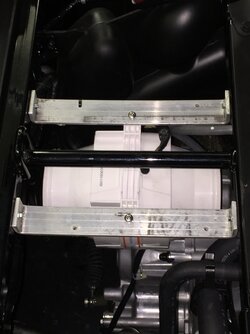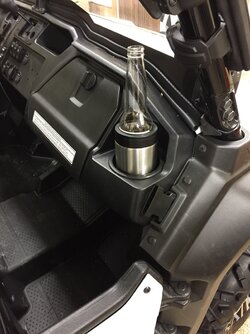 Plow, winch and mounting bracket were supposed to show up within a few days of picking up the machine. Superwinch and EMP bracket arrived and installed those that weekend.
Snow arrived, plow did not. Had to use snow blower for first time in ages. (Sold the Honda Rubicon and plow late October).
Accessories started arriving along with more snow.
Installed work lights, blower and vents, cup holders and started planning the wiring for 2nd battery, isolator, etc.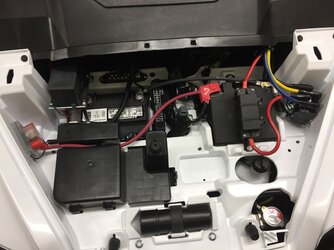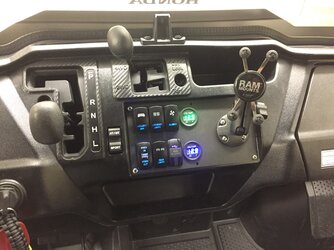 More snow arrived and no plow. Starting to regret selling the Rubicon.
Installed second battery, isolator, bussman, and cleaned up winch and accessory wiring. Also installed Mystic switch panel, switches, volt meters and RAM mount.
Finally after several empty promises the plow arrived. Installed just in time for more snow. No pics of install, I was still pretty bent about delayed delivery at that time.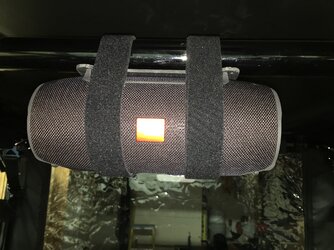 Wife and kids gave me a JBL Extreme Bluetooth speaker for Xmas. Made a bracket for the feet to sit on and attached to ROPS. Secured it with velcro for easy removal.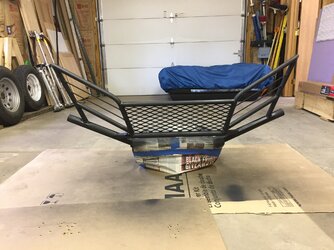 Finally made the time to complete the stock bumper modifications.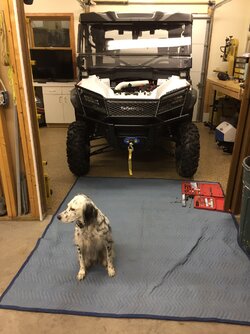 Installed with the help of my little buddy, AKA Assface.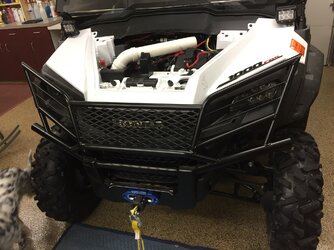 A closer look at the bumper. Also snorkeled the intake and all the vents while I was waiting for paint to dry. Went back and forth over thru hood or under hood snorkel. Decided on under hood for now because I had the parts on hand.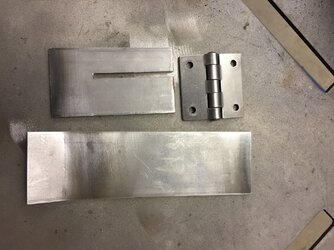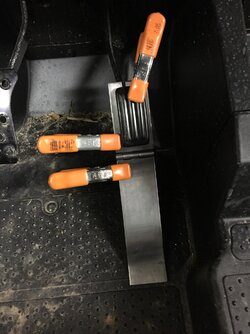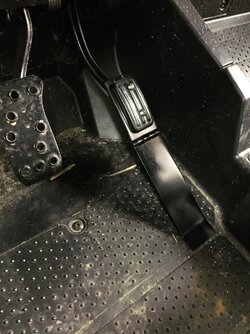 After slipping off the go pedal a couple times crossing pastures, and herky jerky rides with the short ones I live with, decided to make a throttle assist. Less than $10.00 in material and an hour of fab, it turned out nice.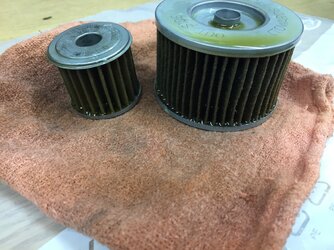 Performed 1st service a little while back. Oil was clean and filters are only slightly discolored.
Machine did quiet down some. Hoping it quiets down more with use.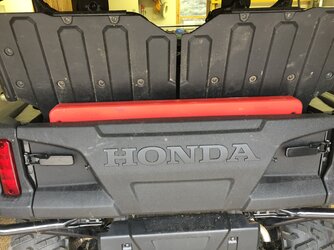 Spare gas container that has been laying around the garage for years. Thought about getting rid of it several times, glad I didn't, fits perfectly behind rear seats. I need to add a couple small d-rings and a strap to keep it from moving.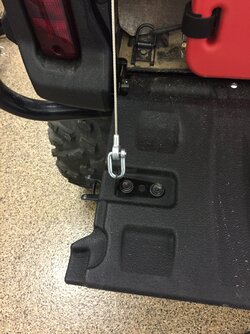 Copycat fix to level the tailgate. I think it was from @JShell - thanks buddy.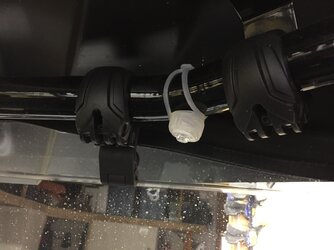 High buck dome lights installed on overhead ROPS in each front corner. It pays to watch the clearance racks!! LOL!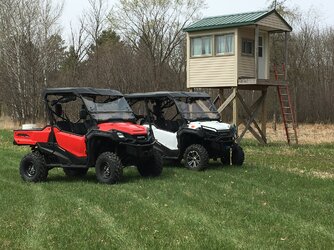 Corona has a new relative.
Modifications
Exterior Mods

OEM Hard Top, Two Piece Windshield, and Rear Panel
Superwinch Terra 4500 and EMP Mount
Denali Plow and Mount
Second Battery, Isolator, and Bussman Relay/Fuse Block
Front and Rear Work Lights
WI required license plate and awesome stickers
4" Bilge fan and vents



---



Interior Mods

Dash cup holders
Door cup holders
Mystic switch panel
Switches, volt meters, and RAM mount
Rearview mirror
JBL Extreme Bluetooth Speaker



---



Drivetrain Mods

None



---



Suspension Mods

None



---



Wheels and Tires Mods

None



---



Epic Advntures
A few winter trail rides
Future Plans
Extensive Northern WI riding (2017)
Western South Dakota (2017)
Pioneer Take-over (2018)