Not about the destination Its about the journey
Lifetime Member
Dec 10, 2015
1,537
6,344
113
So as well all know behind the seat of a KRX is pretty roomy but with no way to fold the seat forward you are often attempting to reach through the center. So I decided to try to alleviate this problem. It took me a few cuts and welds to figure out which way the seat would best fold. So pay no attention to the welded area on the frame above the hinges.
So I started out with a 2000 model seat from a ford f250 that I had laying around. I am not saying this is the required hinge its just what I had. Taking the hinge out of the seat is pretty self explanatory. Just pull the fabric up and its 2 bolts on each side with a rod connecting them. This is what my style seat looked like.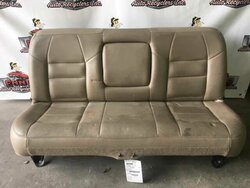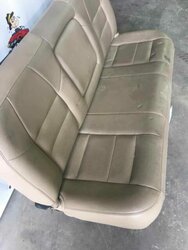 The bracket originally had two supports that I cut down, The original bracket looked some what like the this, just imagine the blue parts are the bracket before cutting it down.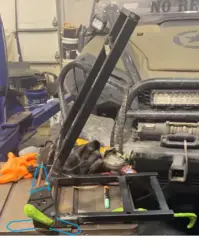 I did have to use a spacer for the weld on the bottom of the frame where it is circled as the bottom hinge kicks out some. From that point I made sure each bracket was even, and welded them on each side. Then I made the cut through the seat frame where you can see the red lines market out. On this particular hinge it was designed to be accessible from both sides of truck so if you see the small bar behind the seat that just allows you to fold the seat from each side.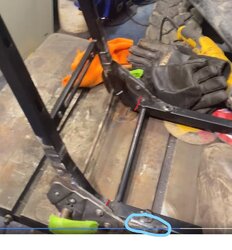 Every car seat hinge will be different, but be cautious about locating the hinge to high, as the seat back will interfere with the action of the hinge. Its problematic I have searched for those particular hinges and can't really find them for sale or I could make more that possibly bolt in. If any one has any questions feel free to contact me and Ill help yah figure something out.
Now on to the passenger seat to do something a little different.