Club Founder
Staff member
Lifetime Member
Supporting Member
Feb 13, 2013
14,089
37,011
113
Ownership


1000-5
UPDATE - May 2nd..
CUTOFF is Saturday May 8th to be anshirt sponsor. Private or business.
We can still accept business sponsorship but it will lack the shirt.
T-shirts will still be available for order and at the Takeover. This cut-off is only for sponsorship.
Thanks.
Running a little late getting this started but we are hell-bound on not letting the current challenges keep us down.
Like previous years, we plan to do T-Shirts with user names and businesses that help support the club and our event. Our goal has always been to raise enough money to cover expenses and buy some good prizes to give away. For 2021 this will be even more challenging to ensure a great event. We may have some unexpected costs involved in regard to health and safety.
T-Shirts will ship to your house by late May.
Extras will be available at the event. If you need a bunch please let me know. I may do a "for pickup" order form in early May, you can pick them up at the Takeover.
HELP SPONSOR THE EVNE AND GET YOUR NAME ON THE SHIRT!
Below are the 2021 Sponsorship levels with a general breakdown of what is included. See each for full details.
See all packages here --> PIONEER TAKEOVER SPONSOR PACKAGES!

BRONZE ---> 2021 PIONEER TAKEOVER - BRONZE SPONSOR - Name only! - NO SHIRT!
NO SHIRT - just a name on the shirt. Great to honor a loved one or for extra riders attending.
SILVER ---> 2021 PIONEER TAKEOVER - SILVER SPONSOR - Name W/SHIRT
Shirt + Name on the back.
GOLD ---> 2021 PIONEER TAKEOVER - GOLD SPONSOR - W/SHIRT
Level 1 Business sponsorship: Shirt + small logo + vendor permissions.
PLATINUM ---> 2021 PIONEER TAKEOVER - PLATINUM SPONSOR - W/SHIRT
Level 2 Business sponsorship: Shirt + Logo on shirt + Vendor + Scavenger hunt banner.
DIAMOND ---> 2021 PIONEER TAKEOVER - DIAMOND SPONSOR W/Shirt
Top level Business sponsorhip: Shirt + Logo + logo + vendor + exclusive Scavenger hunt location.
What will the funds be used for?
100% of the funds will be used for the event. We will pay for all supplies and services for the many things needed including banners, shirts, bandanas, stickers, flyers, advertisements, admin services, door prizes, and many other needs.
If you are looking to sponsor more prominently, please reach out to me at
[email protected]
with your ideas.
Example of shirt layout. this is not the 2021 design.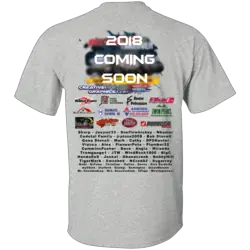 Last edited: