SuperATV
Well-Known Member
Vendor
Dec 5, 2013
1,175
8,134
113
PIONEER 1000-6 PRIMAL SOFT CAB ENCLOSURE UPPER DOORS​
Link:
https://www.superatv.com/honda-pioneer-1000-6-primal-soft-cab-enclosure-upper-doors
PVC-backed polyester utilizes Pel-Tek technology for maximum strength
Uses double-polished vinyl windows
Resistant to water, punctures, abrasions, UV radiation, and mildew
Heavy-duty snaps hold the windows open for more airflow
Industrial-strength Velcro strips and snaps hold the doors securely to your frame
Includes all hardware and instructions
Honda Pioneer 1000-6 : 2023+
NOTE: Do not use in temperatures below negative 20 degrees Fahrenheit.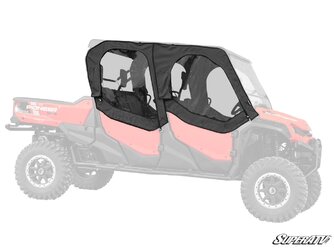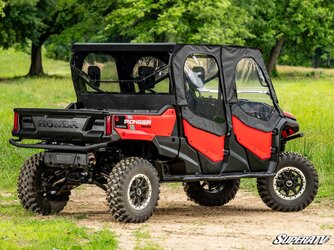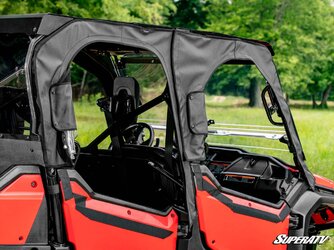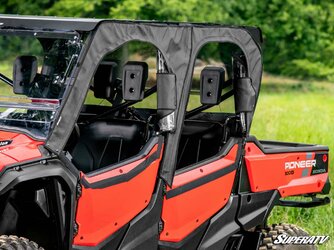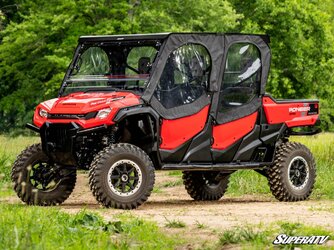 Ride Year-Round with Upper Doors
Equip your Honda Pioneer 1000-6 for year-round riding with SuperATV's Primal Soft Cab Enclosure Upper Doors. With our advanced Pel-Tek technology, these soft upper doors are durable, water resistant, and provide excellent protection against the elements. Enjoy the ability to control your cab's airflow while being one step closer to the maximum protection of a full cab enclosure.
Crafted with Pel-Tek Technology
Our Pioneer 1000-6 upper doors are built with Pel-Tek technology to ensure durability and protection from the elements. Pel-Tek is our own custom material—it's puncture, abrasion, and mildew resistant. The material is CNC cut for a precise fit to your machine, while premium stitching techniques offer a clean and polished look. Installing these doors is a breeze with the help of Velcro and snaps. And for added security during transportation, cinch straps are included.
Clear Windows for Optimal Visibility
We utilize double-polished vinyl to create windows that provide exceptional clarity, offering you the best visibility possible. These windows are also UV resistant, ensuring long-lasting performance without yellowing or cracking over time.
Versatility for Any Weather
When you're unsure about the weather forecast, having versatile doors becomes essential. If the sun is shining, simply unzip and remove the central portion of the door while leaving the rest of the cab enclosure intact. On warm days with isolated showers, you can roll down the window, secure it with the flap, and snap it into place. When you need protection from trail debris or rain, the heavy-duty, snag-free zipper will keep the doors securely closed.
Upgrade to a Full Cab Enclosure
These Honda Pioneer 1000-6 upper doors serve as the initial step in achieving a complete cab enclosure. Further enhance your setup by adding a roof and front or rear windshield for maximum comfort and protection.