SuperATV
Well-Known Member
Vendor
Dec 5, 2013
1,175
8,134
113
PIONEER 1000 CONVERTIBLE CAB ENCLOSURE DOORS​
Link:
https://www.superatv.com/honda-pioneer-1000-convertible-cab-enclosure-doors
Removable top half for increased airflow
Made with lightly tinted 1/4" polycarbonate
XR Optic Hard Coating adds unmatched scratch resistance
Frame constructed of powder-coated carbon steel
Seals tight with Secure Seal technology
Includes sliding windows and bolt-on side-view mirrors
Lockable latches are easy to open and close
Honda Pioneer 1000 : 2016+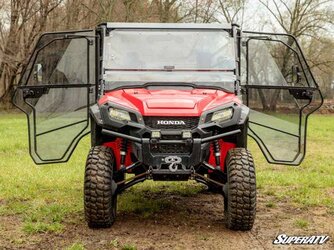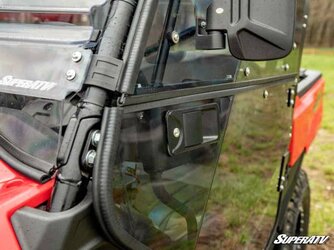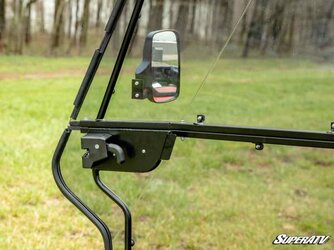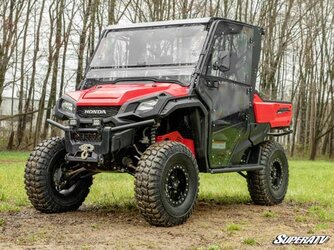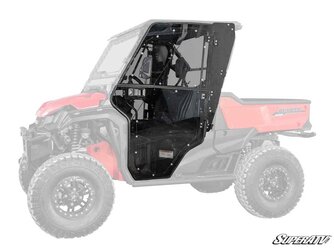 Year-Round Riding
Your Honda Pioneer is one capable machine that can take on everything that trail throws at you. But is it prepared for Mother Nature too? Take your rig to the next level by adding SuperATV's Honda Pioneer 1000 Convertible Cab Enclosure Doors. With little effort, you can transform them from full doors to half doors. You'll be able to keep up with your work without worrying about the weather. They're made from lightly-tinted polycarbonate material so that you can stay protected from all the elements on the trail. These doors are one-of-a-kind, featuring our two-piece design and loaded with features.
Sealed with Secure Seal Technology
These doors were made to keep the elements out thanks Secure Seal technology. A full-length bulb seal and powerful gas struts keep the doors snug to the frame of your machine. So not only is your cab leak-proof, but you also get a rattle-free ride.
Switch From a Full to a Half Door
There are a ton of great features with this set of doors, but one of the best is they're convertible. You can switch from a full door to a half door when you want more airflow than what a window can give you. It's simple: remove the bolts from the bottom portion of the door and unhook the gas strut. The half door sits low enough to rest your arm on its frame but still high enough to protect you from trail debris. And if our half-door concept isn't open enough, you can remove it too for that open-cab feel.
Made with Scratch-Resistant Polycarbonate
We know you'll be riding in rough terrain, so we've made these doors with tough polycarbonate. Why? Because it's 25 times stronger than acrylic and 250 times stronger than glass. And that's not all—we treated them with our proprietary XR Optic Hard Coating for added durability against scratches, abrasions, and harmful UV rays. Plus, we've made the frame from powder-coated steel tubing, so these doors will last.
Loaded with Convenient Features
We've outdone ourselves with these doors—there's nothing like them on the market. They're cleverly designed for better protection and to control your cab's comfort level, and they're loaded with accessories. They come with side-view mirrors, expanding your visibility and making your ride safer. Our key-locking latches add extra security to your machine, while the secure gas struts make them easier to open and close. And if that wasn't enough, installation is super easy. You'll have these doors installed on your machine and will be riding the trails before you know it.