General Information
First off I have to thank all the people here that inspired me and gave me great advice and idea's. You are truly an inspiration.
This garage will be a work in progress, so bear with me. It will take me just as long to build this post as it is me actually building the machine.
My wife named her T&A. Yes, she did. But it makes sense since I'm Tim and she is Audrey. It's how we mark all of our gear when we camp with big groups of people, so it just made sense. It also gets smiles from many people.
Let me say, both of us LOVE this machine. This is my/our first SxS. We have a small RZR170 that is my Stepdaughters. I've done a lot of serious riding on my Rancher and Rincon. I sold the Rincon to afford the new trailer I needed to haul this machine. No love lost. I have many more memories on the Rancher, and it is my snow plow machine. Every time we go out Audrey comments on her appreciation of how capable this machine is. Me? I never doubted it. I knew we needed a SxS because Audrey truly can't handle a machine that has the power to go into the places I like and need to go.We picked her up on April 9th and immediately installed the winch, windshield, roof and side mirrors. Here's a pic before any mods, sitting in the garage. (Yes, I need a bigger garage... lol). The little Polaris is a RZR170 that is my stepdaughters. Don't tell her, but we're thinking of selling it and replacing it with a P500 or 700. That way she can go where we go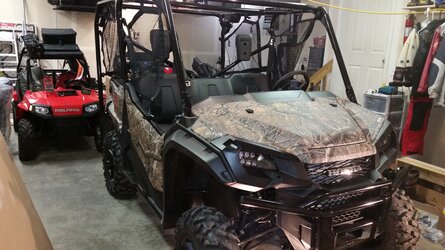 The next item we added was the skid plates. Here's the foreman checking out the undercarriage before installation. She truly helps with everything. I got me a keeper!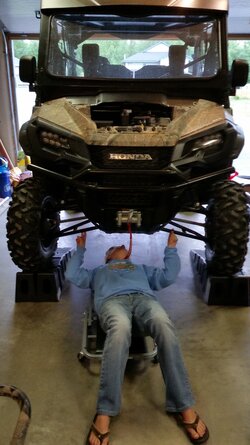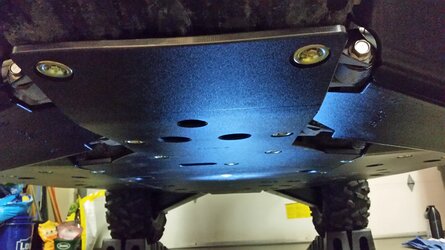 I had talked about snorkeling her, and after
@CumminsPusher
disaster, I went for it. We completely snorkeled it and my wife built the front windshield cover. I completely tested the air intake on the snorkel by covering the intake. No leaks, and it choked out within 5 seconds. Air tight.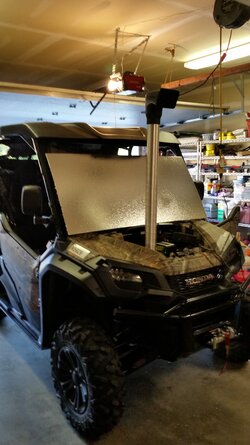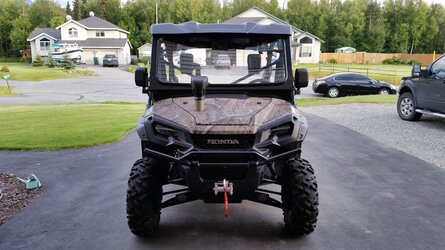 We use bungee cords to hold the cover in place.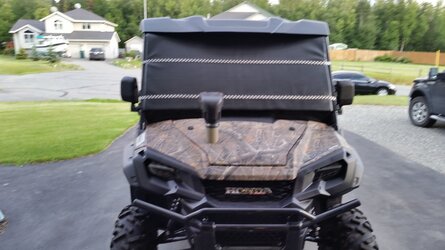 Snorkel lines going to the roof.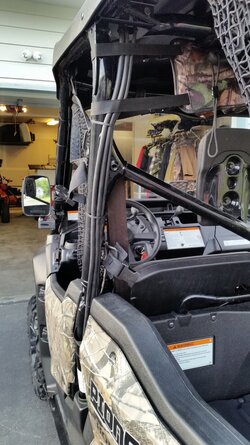 We tee'd the front diff with the radiator vent, as well as the rear diff and the drive mode box. The sub trans and fuel tank have their own lines. All of them go to the roof. I plan on adding some small filters to the ends of them to keep the dust out.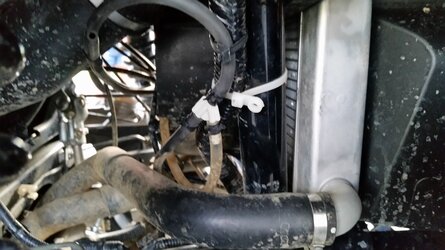 A pic of the tee for the front diff and radiator fan.
I plan on continuing to add things to every part of my garage, so stay tuned. Thanks for looking!
Got the switch plate installed, along with the light bar, rear light cubes, and dome lights. The machine was pretty dirty when I took the pic of the dome lights.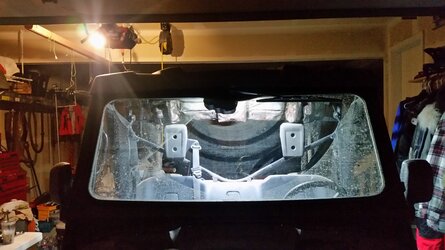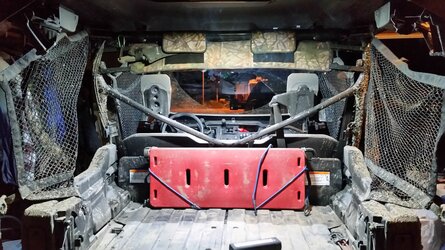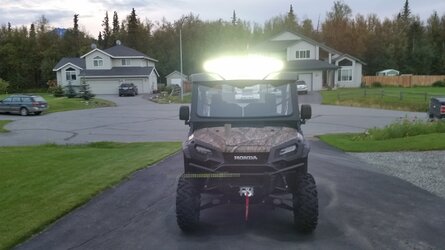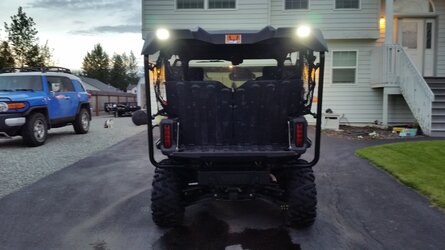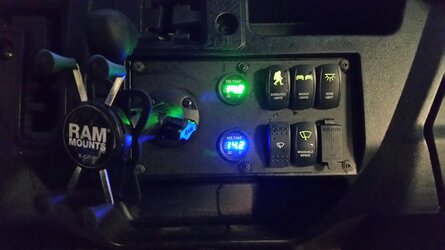 11-15-2016
Update:
Installed the ThrottleMax and replaced the front shocks with Walker Evans.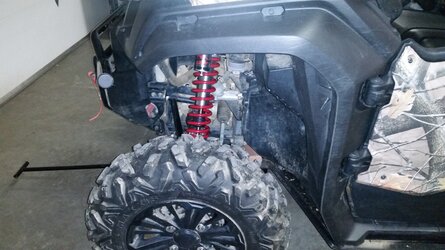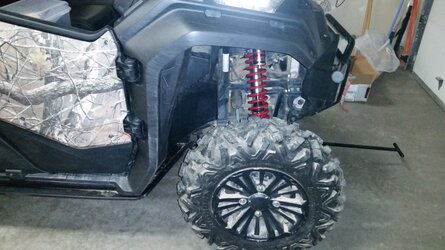 11-18-2016
I finally finished my block diagram for what I currently have wired up on the machine so I figured I'd share it. H/T to
@ohanacreek
again for the diagram of how to wire the windshield wiper. I recreated it from his original drawing.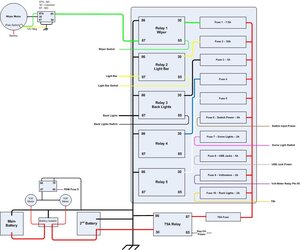 Modifications
Exterior Mods

OEM glass windshield
OEM Windshield Wiper
OEM Roof
OEM 4500lb winch and mount
OEM side mirrors
TRUE UTV-SBI-15CM Dual Battery Connect and Monitor Kit
Odyssey Supreme 2nd battery
Cooper Bussman PDM
Full Trail Armor skid plates
Custom windshield protector made by my wife
MICTUNING 42" Curved 240W CREE LED Light Bar
2 Nilight 4" Flood Lights as backup lights



---



Interior Mods

OEM bedliner
OEM bed extender
Bubble insulation to combat seat heat, first suggested by @Bayouownbeer
Custom switch plate provided by @mystic1219
2 RioRand dome lights, front and rear



---



Drivetrain Mods

Completely snorkeled to include:
- Front and rear differentials
- Sub-transmission
- Fuel tank
- Radiator fan
- Drive mode adjustment box



---



Suspension Mods

Front shocks - Walker Evans



---



Wheels and Tires Mods

Stock Maxxis Bighorn 2.0



---



Epic Advntures
Testing the snorkel...
The skids went on after this ride. I apologize for the crappy video. I tried a new mount and it was terrible. My wife is seriously afraid of heights. This was steep, but the side-hill was easy. I walked it. We both laugh every time we watch this. The way she looks back at the hill you would think a bear was chasing her. There's a rock slide crossing, with a little down and up at the end.
October 22, 2016 Denali Hwy
It was
COLD
but we definitely had a good time. A friend of mine's son still had an open caribou tag, so my wife and I tagged along to help out and maybe hunt some grouse or ptarmigan. His son got his caribou, be we didn't get any chickens. It was around zero degrees the first night and well below zero the second night, but we had a blast!
Video of 7 Mile Trail and the ride back to camp on the Denali Hwy
Some pics of the area, and Audrey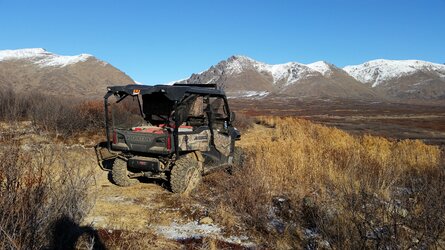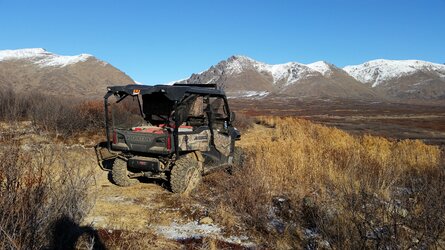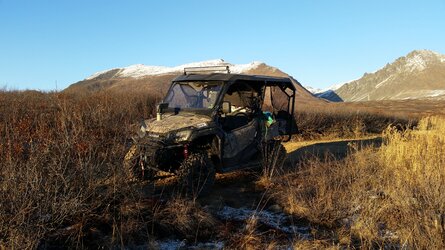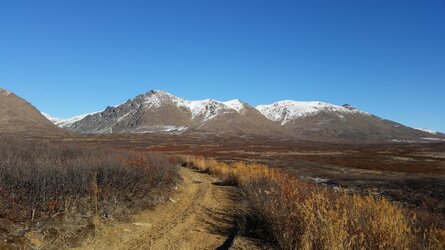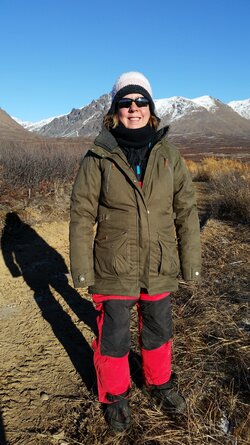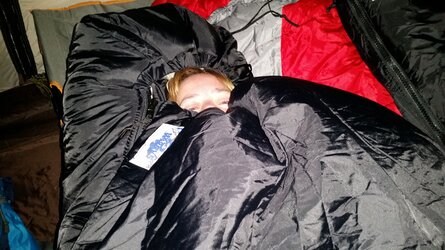 Future Plans
28" Blackwater EVO or Roctane tires
Rock Lights - I have them but will probably wait to install them this winter.

Wishlist

Camso Tracks
IGR