General Info
The 700-4 seems like it will be the perfect machine to get both of my kids out with me at the same time. In the short time I owned the p500, I quickly realized that it is much more fun when I have one of them with me. Now that I can bring both kids, it should be even better. Or maybe they will fight like they do in the backseat of my truck.... time will tell.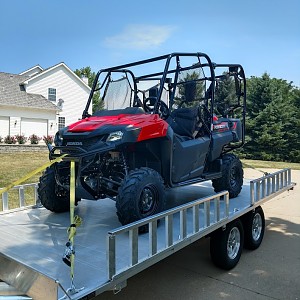 Modifications
Exterior Mods

Honda Soft Top, Trail Armor Full Skids, KFI Assault 5000 lb winch



---



Interior Mods

RAM GPS Mount, MB Quart sound bar, Large AGM Battery



---



Drivetrain Mods

None



---



Suspension Mods

None



---



Wheels and Tires Mods

27 inch Terrabites 27 x 9 in the front and 27 x 11 on the rear. (Stock rims)



---



Epic Adventures
So far, 60 neighborhood miles of going from my house to the pond for a little fishing.
Future Plans
1/2 Windscreen: Super ATV

Light bar
Switch Panel: Non Honda
2nd Battery:
Creative UTV Graphics: Color Change from Red to Lime Green. (To go along with the little monster theme)