SuperATV
Well-Known Member
Vendor
Dec 5, 2013
1,175
8,134
113
PIONEER 1000 ATLAS PRO 1.5" FORWARD OFFSET A-ARMS​
- Gives you room for 31" tires without a lift
Link:
https://www.superatv.com/honda-pioneer-1000-atlas-pro-1-5-inch-forward-offset-a-arms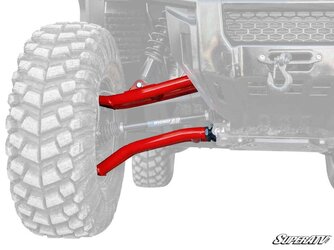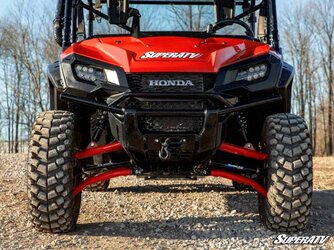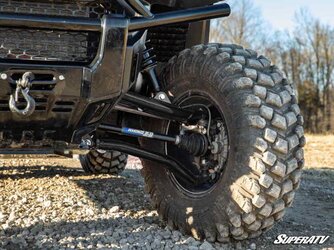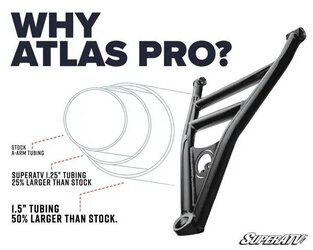 Dominate with Atlas Pro A-Arms
There it is—the rough, rocky slope none of your buddies can conquer. Before they know what hit them, they're eating your dust on your way to the top because you're equipped with SuperATV's Honda Pioneer 1000 Atlas Pro 1.5" Forward Offset A-Arms. These rugged A-arms provide extra ground clearance, stability, and room for new 31" tires on your Pioneer to help you over boulders that hold stock machines back. With these bad boys, you'll never back down from a hill again.
Bigger and Stronger Than Stock
Atlas Pro A-arms are an upgrade in every way. They're 0.5" larger than stock and 0.25" larger than our standard high-clearance A-arms. They're super durable thanks to a UV-resistant powder coating, meaning they're immune to rust. The larger construction is eye-catching, adding an intimidation factor to your Pioneer. These A-arms ooze confidence and power. You'll take on the wildest trails with the Atlas Pros easily and make it look good too.
No Hang-Ups with Higher Clearance
These Atlas Pro A-Arms give you an additional 1.5" of ground clearance to keep you from getting stuck. Your wheelbase is also extended, giving you more stability. Additionally, the offset allows you to run 31" tires on your Pioneer without a lift. Obstacles you may have avoided in the past out of fear of hang-ups or losing balance will become bumps in the road with these control arms.
Correct Camber Saves Your Tires
Atlas Pro A-Arms come with fully adjustable pivot blocks. They're set to factory standards for the fastest installation possible. If you've made upgrades to your machine, you can save your tires from unnecessary wear and tear by adjusting your camber. No matter what adjustments you've made to your side-by-side, these arms are a perfect addition.
Let SuperATV Do the Work—Preassembly Available!
Want to spend more time on the trails and less time in the garage? Purchase a set of SuperATV ball joints with your A-arms and we'll install them for you for free! We save you money and time so you can get back to doing what you love.
NOTE:
You must re-use your stock ball joints if you don't select a pre-installed ball joint at checkout.
Keller Ball Joints
Keller Ball Joints use a two-piece design that eliminates the need for a snap ring. They thread onto your A-arms like a nut and bolt, which makes these ball joints virtually impossible to pull out. The high-quality chromoly steel stud combined with an advanced tool-steel body makes them perfect for bigger machines, bigger tires, and bigger rides. And since they're greaseable and rebuildable, you can keep them running perfectly.
Heavy-Duty Ball Joints
Our heavy-duty ball joints are designed with ultimate performance and convenience in mind. Whether you're doing flips or chasing hills, our proprietary blend of hardened 4340 VAR steel and zinc plating means this ball joint can take it. Our heavy-duty ball joints also come with easily-accessible grease zerks and an adjustable design. Extensive lab and field testing shows that our heavy-duty ball joints can withstand double the pressure of an OEM ball joint!
Adds a 1.5" forward offset
Fit up to 31" tires
Made with 1.5" diameter tubing

0.5" larger than stock
0.25" larger than our standard High-Clearance 1.5" Forward Offset A-Arms

Adjustable lower pivot blocks for full camber adjustability
Utilizes stock A-arm bushings
UV-resistant powder coat finish
Easy to install
Backed by a lifetime warranty
Honda Pioneer 1000 : 2016-2021
Honda Pioneer 1000-5 : 2016-2021
Honda Pioneer 1000 Deluxe : 2016-2021
Honda Pioneer 1000-5 Deluxe : 2016-2021