1st rule of SxS club: pictures or it didn't happen
Lifetime Member
Club Contributor
Apr 4, 2013
1,581
7,466
113
Ownership


500
Lets do this again, one last ride before we have to mount the snow plows 2020!
Quick info:
What: informal one day ride in the middleish of Ohio.
Where: Riding at Perry state Forrest APV area (between Columbus and Zanesville sort of)
When: Saturday October 31st (beggers night).
The trails
Warning: to ride at Perry you must have Ohio state APV registration.
I usally like to be all organized and post links for pertinent inrormation but not tonight.
The state web site is impossible to navigate (they where hacked earlyer this year) and I worked late and I'm cranky.
The ride
This is supper casual run what you brung.
I'm not supper organized, I figured when a few people show up we will hit some trails.
Camping
Perry Back Woods Campground is next door.
I plan to camp Friday night then move my trailer over to the trail head.
You can ride from the camp to the trails.
No camping at the trail head.
When to ride
I plan to snag an area at the trail head, the area marked P on the map.
Not sure on a start time, post up when you think you will be there.
Look for a Honda banner hung on the ramp door of my box trailer.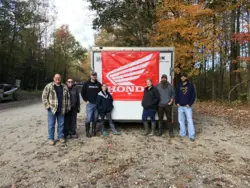 Well, let me know what you think.