Feb 23, 2019
3
14
3
Ownership


500
Coming back from a fishing trip last evening I flopped my < 1000 KM Pioneer onto it's side in the most gentle way you've ever seen. I used the winch to pull it back onto it's wheels then out of the hole that caused the tip-over in the first place. (Ice on one side of the trail, bottomless much on the other = flop)
The machine had turned itself off with the tipover switch and I winched it back upright without the engine running.
Now, when turning the key the starter just grunts. Sometimes it will spin the engine over once then stop.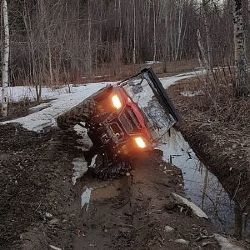 So far I've:
tried a 14000 Jump Pack
tried a 7000 L-Ion Jump Pack
tried a good car battery and jumpers
tried charging the stock Yuasa battery back up to 97% (about 4 hours on a snap-on shop charger)
Switched the machine in and out of gear using the manual tool
rocked the machine back and forth to be sure It is in neutral
jumped the starter solenoid with a screwdriver
whacked the starter with a big stick and a hatchet
yet still... turn the key and to starter just grunts and sometimes, rarely turns the engine over once. After a couple tries of this the starter gets noticeably hot to the touch.
Do I have a bad starter after less than 1000 KM or is there something else I should try here?
(note, my machine is still in the woods.. will get a tow later this afternoon)
Thanks!
Last edited: