Club Founder
Staff member
Lifetime Member
Supporting Member
Feb 13, 2013
13,206
31,206
113
Ownership


1000-5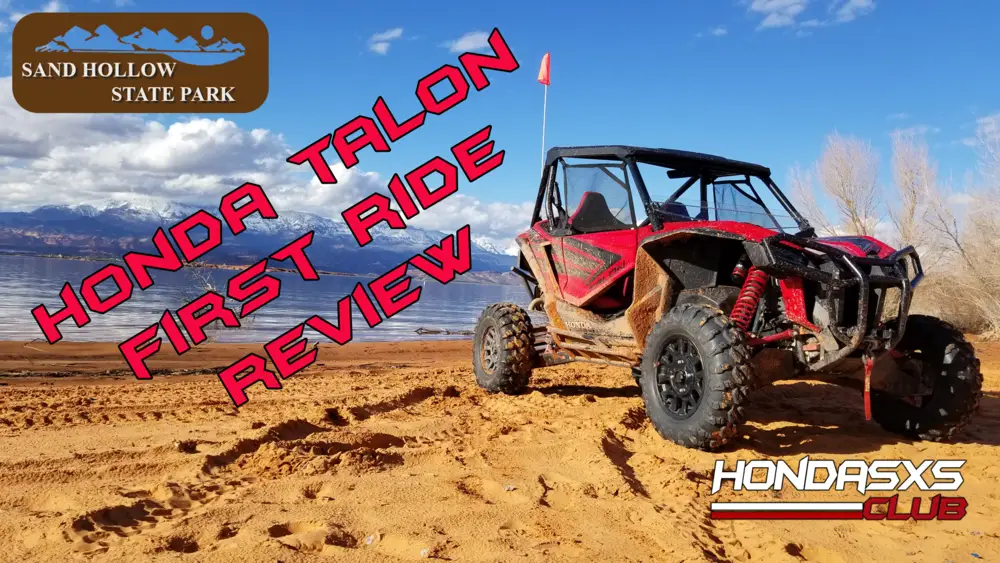 Earlier this March, Honda decided to scoop me up with a quick flight off to Utah, to give the 2019 Honda Talon a day's run in the beautiful Sand Hollow State Park. Once there, we were met with 20 gorgeous machines ready for the taking. 10 Talon 1000 R's and 10 Talon 1000 X's, along with a few Pioneer 1000 LE support vehicles.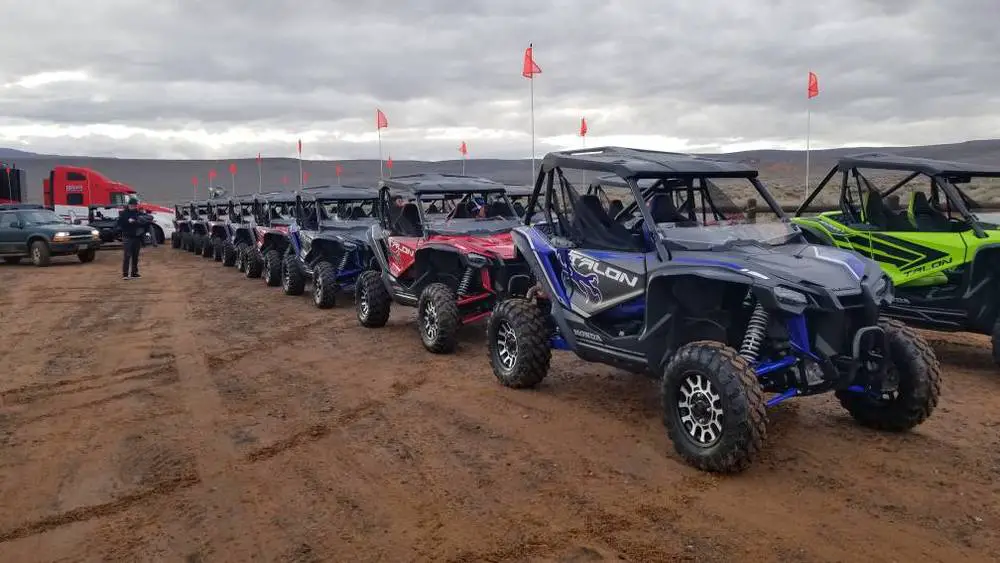 Start of the day.
We Started the day off in a red Talon R. My co-driver was from CycleNews, who was just as excited to give these things a spin as was I. Honda had a great adventure planned out but, the rain from the previous day made for a change of plans. Each machine was equipped with Rugged Radios that allowed the group, as well as driver and passenger communications. As we waited for the tunnel to be cleared of sand, we played around with some of the switches, while the group leader gave a general overview of the unit.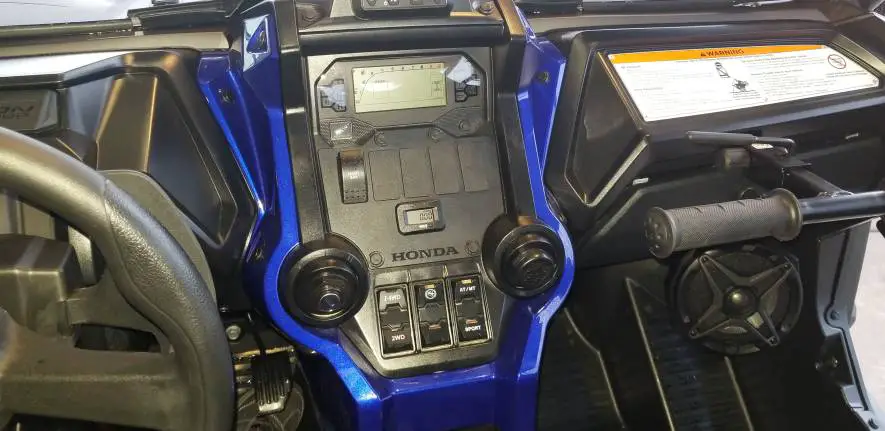 Each unit is equipped with i-4wd and with a push of a button, we could change between 2-wheel drive and i-4wd on the fly. There is also a Hill Start Assist button which holds the machine in place for 3 seconds or so while you move your foot from the brake to the gas, delivering zero roll back when on a steep incline. Then, there was an AT/MT/SPORT button. This allowed you to change on the fly between fully auto mode and manual mode. The sport mode allows for higher rev limits between gears and gives it a sportier feel. Being unaccustomed to the Talon and the loose Utah terrain, I left it in i4wd while switching back and forth, between sport and AT throughout the day. Only during the rock crawl did I move it to low gear.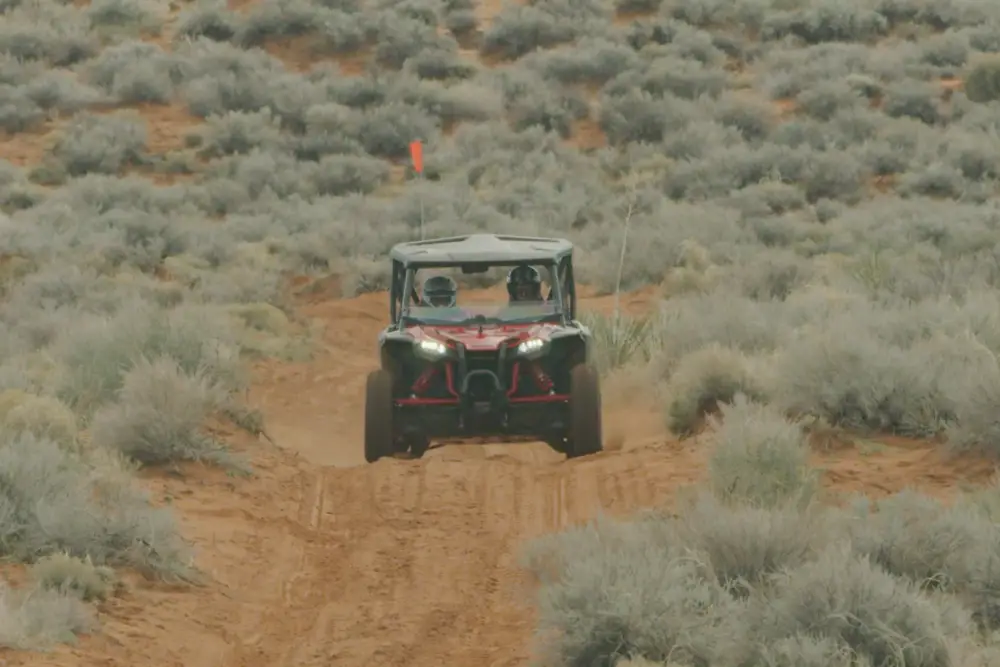 Whoops in the Talon R!
Our leader didn't waste any time showing off the R's potential. First up, it was full throttle through a long section of whoops. One word; WOW! We had 5 to 10 mins of straight whoops and once you found the groove you could just pin it, sit back and enjoy the ride.
Now, I have never ridden on sand whoops before but, man it was fun! Keeping the Talon R pointed in the right direction was easy with the power steering. Like the Pioneer models, there is very little if any noticeable feedback. The Fox 2.5 QS3's and 20.1 inches of rear travel on the R delivered exceptionally well.
Once through the whoops we were given some time to get to know the machine. We took off and played in the sand for a few minutes. One thing I noticed right out the gate was the power and responsiveness the updated 1000 drivetrain brought to the table. Honda states it shifts 50% faster and I believe it compared to the Pioneer. In auto, it was knocking the gears out left and right. Each shift giving you a quick and crisp change that made driving the Talon so much fun!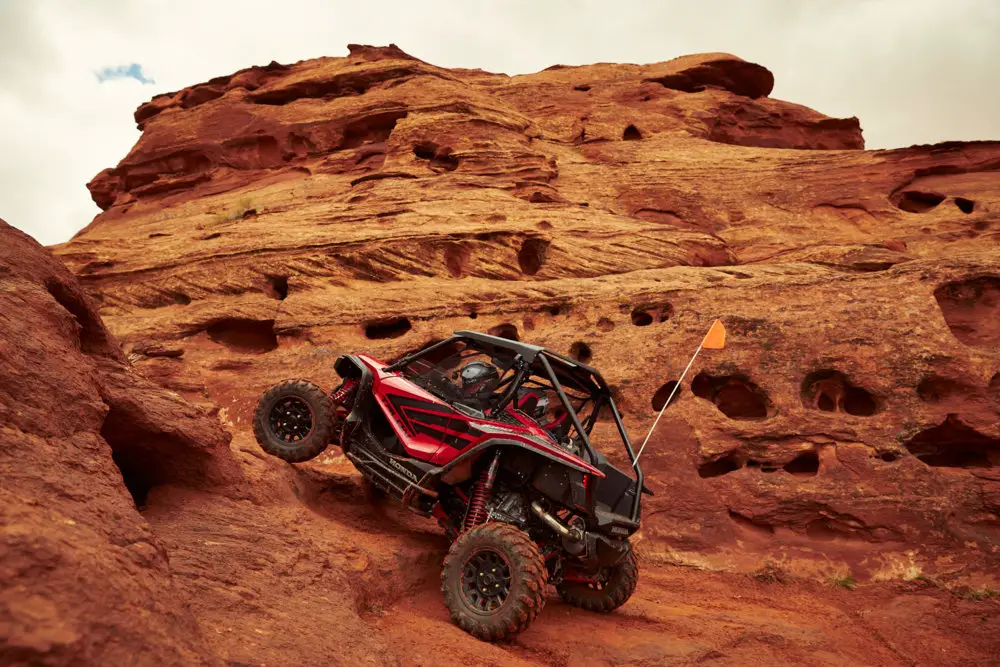 Now for the Rocks.
Next, we were off to try some rocks. We wove through the sandstone rocks and to our next destination. There we met up with the camera crew ready for some action! Rolling up on our obstacle, my goal was to test a slow and steady crawl up the rock face. I threw her in low gear while still in i-4wd and was immediately rejected by the light coating of wet sand which made steep, slow traction impossible on the slick rocks. Yet, this did allow the i-4wd system to take hold and before I knew it, all 4 wheels were spinning on the slick red rocks. With a little rollback and a bit more speed, it went right up with ease.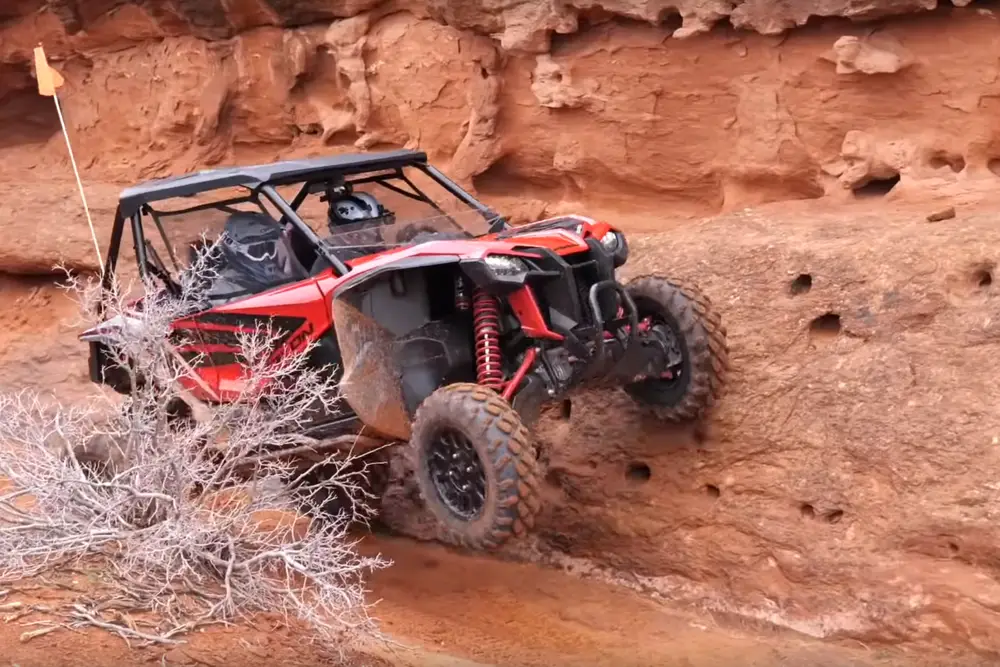 Next, it was through "The Squeeze" This was a tight "Hall Like" section of rocks that gets its name from jeeps trying to "squeeze" through. Many taking damage along the way, but for the Talon it was just a normal path. I tried to have a little fun and decided to climb the wall and I should have gone higher, but the group was moving along, so it was time to go.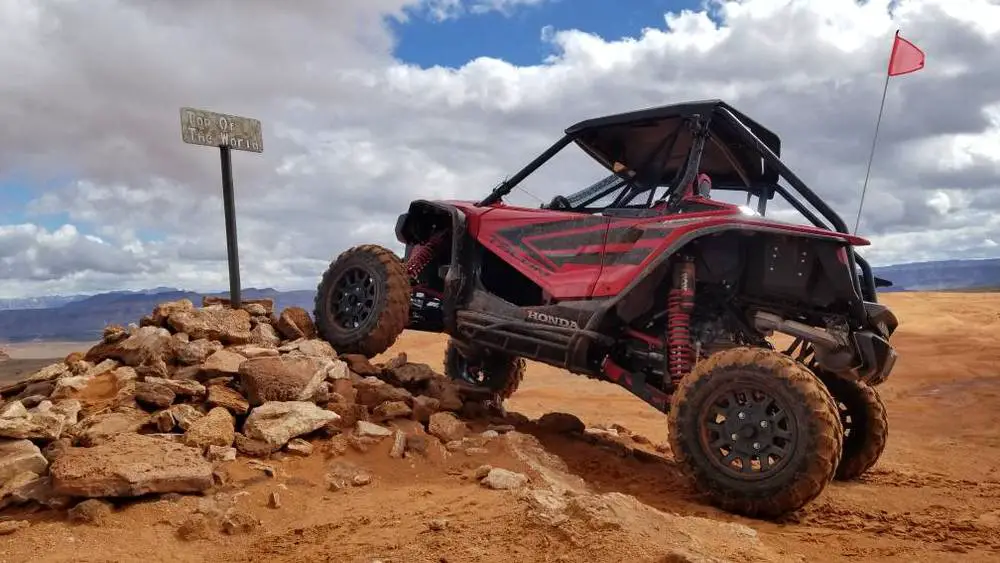 Finally, we made it to the top of the world. There we had a bit of fun on a sporadic short course we quickly made up. Cutting around this track in the Talon R was a blast! It was a bit winding and you could feel the R wanting to get a little off track around the sharp corners. This track had a fairly decent uphill dune that everyone was hitting. Taking it on with full speed, you could feel the power being pulled out from under the machine. It continued to power through, but it's going to need a little help if you're looking for a hardcore dune machine. Talking with some of the riders, paddle tires should do the trick. After this fun section, we headed back for lunch then a switch up to the Talon X.
(pic talon x)
Talon 1000 X.
After lunch, we flipped over to a red Talon 1000 X. While these units are mostly the same, the only real difference is the suspension. The X has Fox 2.0 QS3 shocks with 14.6" of front travel and 15.1" on the rear. Everything else outside of graphics is the same. The X is set up to deliver sharp and controlled turning that can handle tight trails and quick turns. Making our way across the hollow, I could immediately feel the difference. It was a win & lose scenario. We lost travel but gained agility and maneuverability, which was felt through the tight turns.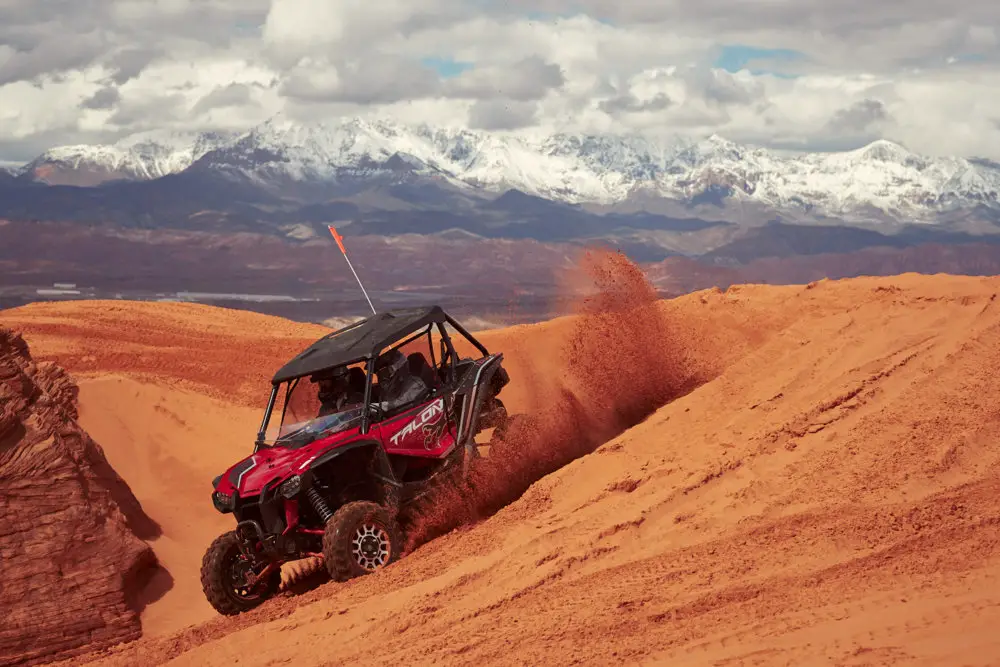 First up, was some tight relay laps around a rock and sand bowl. The X cut into the turns very nicely and you could feel the difference in tight cornering that you didn't get with the R. The X could easily cut in and out of a tight loop with no issues. After a few laps, it was time to head to some cutbacks for a real test of agility. Before we could get too far we had one more stop by the cliffs for a little break and photo shoot overlooking Sand Hollow.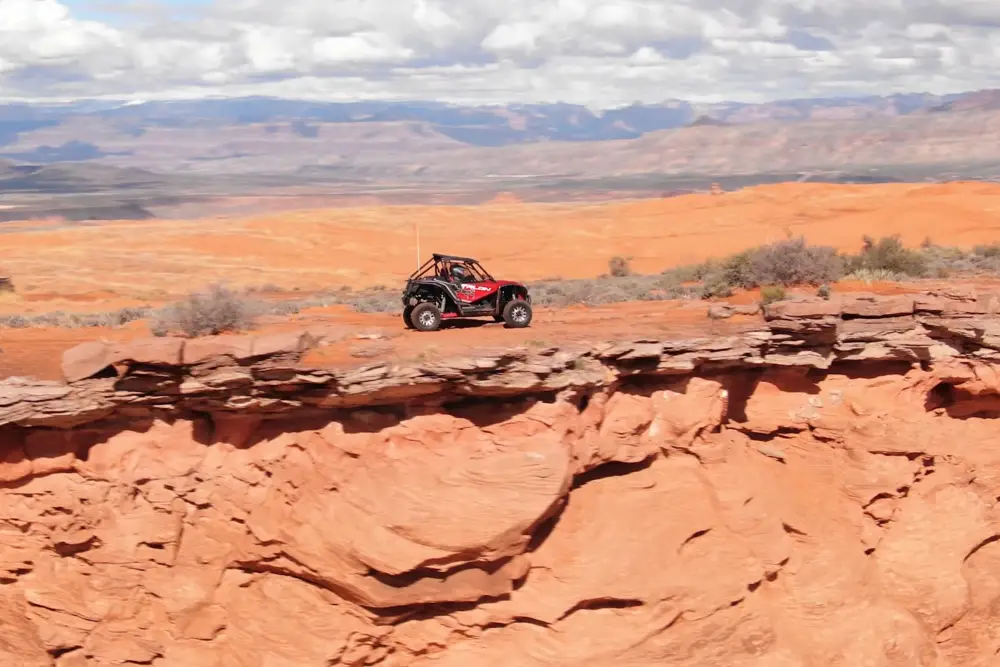 The cliffs were super cool and I'm thankful we had time to stop. There we got to check out the X close up and then we lined up for some awesome drone shots. Once that was a rap, we headed towards the cutbacks to see what the X was made of.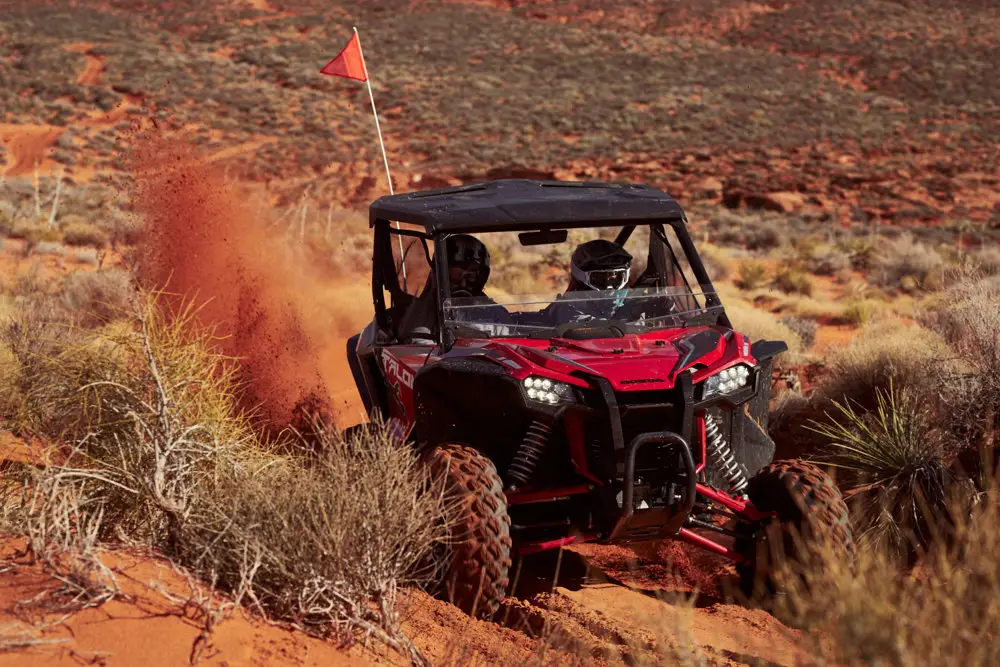 Here we hit a track that weaved back and forth a dozen times or so. Man, this X is growing on me. We hit some similar cutbacks in the R and almost overran them. The X chopped them up with ease. We made 2 passes through this section switching up drivers and we both were spot on.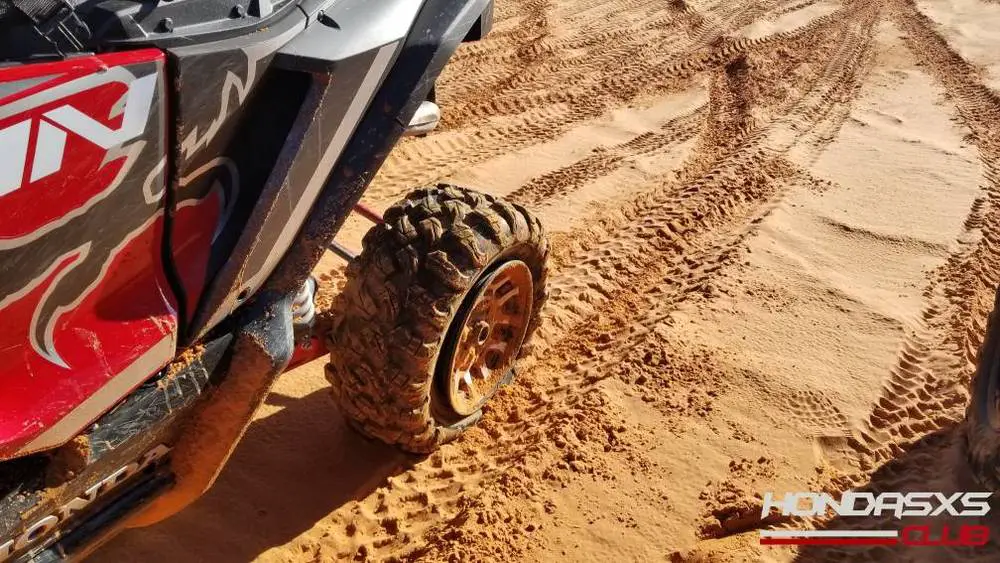 Now it's getting exciting!
Finally, it was time to head back. And this is where it got exciting. As we were heading back we picked up the pace to have a little fun. Getting a little air here and there, I hit one bump and it butt kicked me over a little too much. Up she went landing hard on the front driver's tire. Quick thinking, full throttle, and a turn to the left, she pulled out with a hard blow to the drivers rear, busting the tire off the rim. After a call to our support vehicle, we were headed back to camp drawing a close to the day.
TOTALLY IMPRESSED!!!
After that bit of excitement and being able to keep full control with the above, I truly believe the Talon is going to be a beast. I was totally shocked at how well both machines handled. The R was great for the open dunes that we explored. It was able to handle the roughest trails at high speed without a sweat. The X, on the other hand, could weave in and out of tight trails with sharp cornering and maneuverability; something I personally need as a trail rider.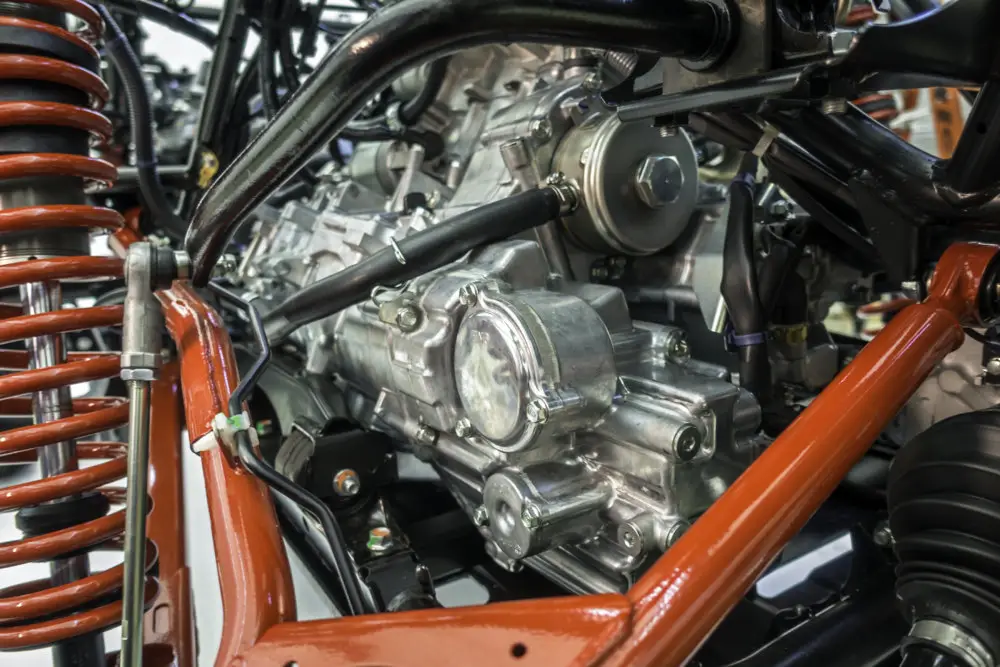 Not your Grampa's Pioneer!
The Talon 1000 offers many improvements over the Pioneer 1000. Most notable is the power. 104hp vs 74hp, this comes from a combination of things such as mild porting and polishing, 46mm throttle bodies vs 44mm, 18% larger fuel injectors, improved shift logic delivering 50% quicker shifts, crank and head improvements to push the 999cc engine to a whole new level of fun. All of which delivered a welcoming feel that a driver could quickly get used to.
Other improvements over the Pioneer 1000 include additional piston oil jets for cooler running temperatures, oversized radiator and fan, tuned intake, exhaust for performance and sound, super comfortable all weather seats and a clutch temperature warning system.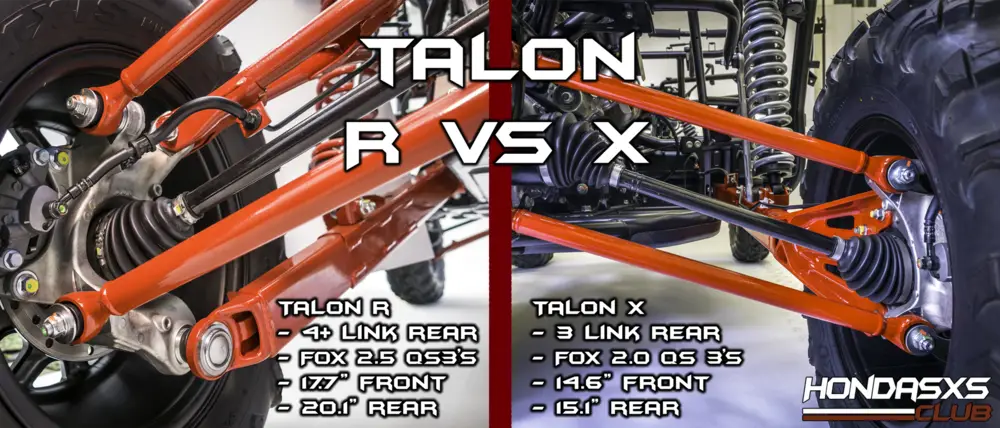 The Talon R and the Talon X are the same primary machine for the most part. Honda says outside of the suspension components they are equal. The suspension on the R is a 4+ link system allowing camber to stay true, while the X has a common 3 link. The R has 17.7" of front travel and 20.1 in the rear, while the X has 14.6" of travel in the front and 15.1 the rear. Supported by Fox 2.5 QS3 shocks on the R and 2.0's on the X. The Maxxis tires are specifically designed for the Talon, 28x9x15's on the front and 28x11x15's on the rear.
A few things to note.
The Talon does not offer a rear turf mode; meaning it is a locked positive rear end that a general homeowner might find annoying using around the yard. The Talon could also benefit with a little more storage, only offering a glove box and a cubby hole that then gets filled with the OEM switch panel. However, Honda does offer several accessories such as a center bag to help with this.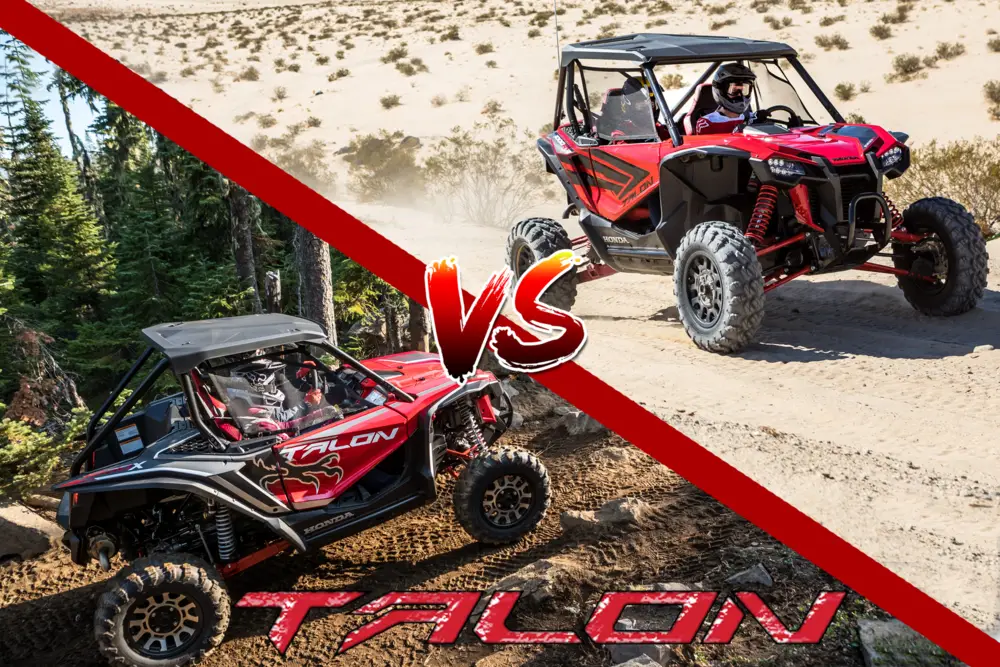 Final Thoughts.
Coming into the ride, I had the Talon R on my wishlist but, after a good ride in both units, I firmly believe the Talon X has won me over! This is mostly due to its ability to make quick turns that the R can't handle and being a trail rider this is a feature I must have! After riding both, I now understand why Honda developed 2 machines and I agree while they may be siblings, they are not alike. Each has its own purpose and for me, the X is my personal Talon of choice.
Spec Comparision - Talon R vs Talon X vs Pioneer 1000-5 & 3 LE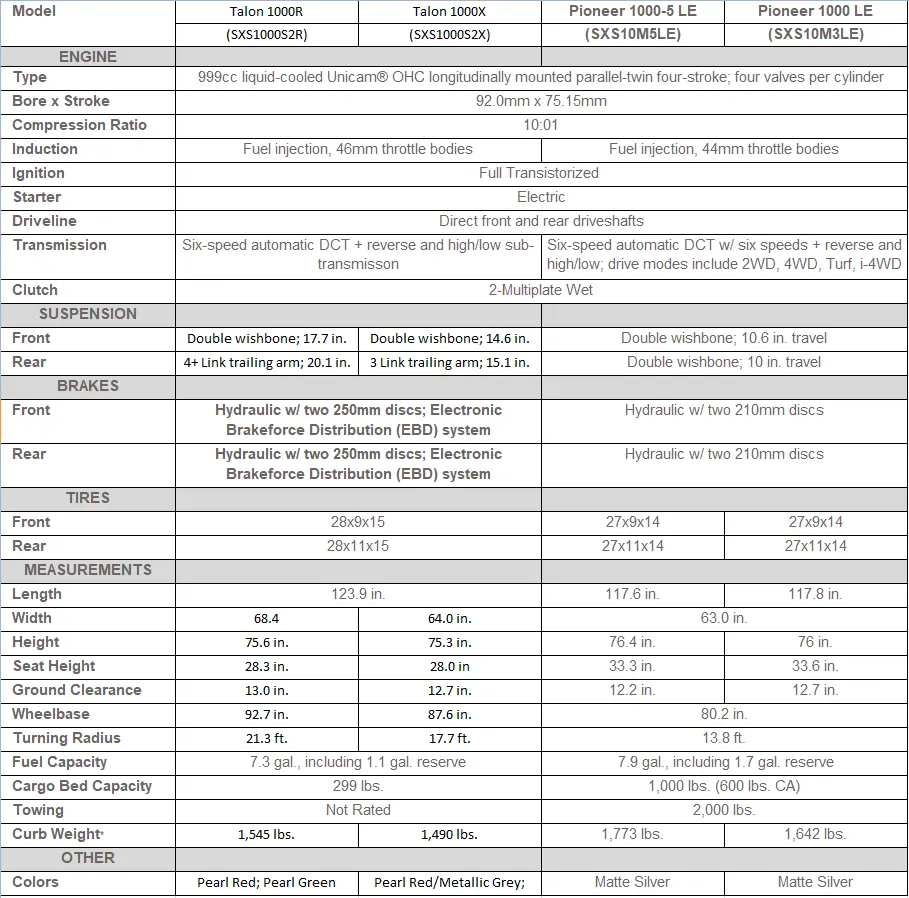 Last edited: