Well-Known Member
Supporting Member
Sep 13, 2019
441
1,127
93
Ownership


Talon X
Don't know how much build there will really be but wanted to document the mods as I go. I'm new to SXS's in general so it'll be a learning experience for sure. I'm not new to fab work or customization. Been in the collision industry for 40 years. Have a pretty well equipped home shop for tinkering.
I told the story in the intro thread but guess it's worth telling here as well. I have a restomod '85 FL350R that I just finished. I decided that I'd take it to a local off road show last week on 9/11/19. The promoters of the show have been selling raffle tickets for a '19 Polaris Ranger XP1000 all year. This was the final show. The raffle was a benefit for the Sheep Dog Impact Assistance group. A very worthy cause indeed so I figured I'd donate $20 for 5 tickets. I ended up winning the Ranger. lol...
The next day I paid the sales tax and promptly took it to my local Honda dealer and traded it in on a red X. my gosh I love the thing! The dealer had already installed color matched 14" Raceline Krank beadlocks and 32x10 Roxxzilla's. I also loved the wheel and tire combo. The dealer has a local shop build tail gates, extenders etc... for them and it also had one of their tail gates.
Current mod list:
Raceline Krank 14" wheels
Roxxzilla 32x10's
Custom tail gate
Hondaline center console bag
Simpson D3 5 point padded harnesses
Seat belt bypass
Seizmik Strike side mirrors with red inserts
Seizmik center rear view mirror with red inserts
Mud-Busters standard R fender extensions
Mud-Busters rear mud guards
Ebay firewall cover
American flag decals for the Honda emblems and 1000X decals
Front fascia and front bumper color match
Hondaline half windshield
CA shifter gate
Airain roll bar fire extinguisher quick mount
First Alert extinguisher
Bandit UTV tender springs
JC Racing nitrogen caps
HillBilly brake
SATV lower doors
Tusk seat heaters
LED halos, chase light, mini whips, chase bar, interior light by wagzledz
XTC keyed accessory harness
hondasxs.com 3rd brake light harness
PBR center dash switch panel
SATV Black Ops 5000lb. winch
Auxiliary battery on CAtech juice box battery tray
HMF HD front bumper with EXO bars
Nilight 4 row 4" LED pods on HMF bumper
SATV rear bumper and hitch
Samsung Galaxy Tab A with Avenza and GAIA map apps
iBolt tablet mount
TSC 32" storage box
Future plans:
Custom cage by MD Offroad
Custom window nets
Complete body color change
Custom graphics
As I picked it up...
The forum apparently doesn't like BB code so all the photos are thumb nails. Just click the pic for the full size pic.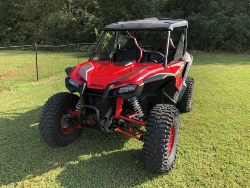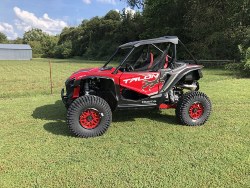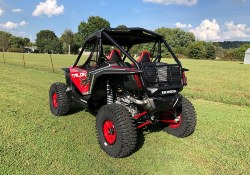 One of my all time favorite pics. My FL350R and the new Talon...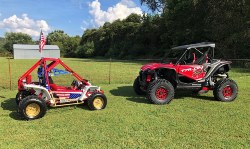 I must admit that the wheel and tire combo really drew me to this X. I realize I'm in the major minority but I do not care for black wheels at all.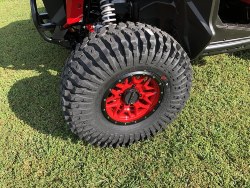 Last edited: